The Safe and Commonly Ways of Maintaining Your Acrylic Bathtub
9 Cleaning Tips for Acrylic Bathtubs
We do not recommend using traditional cleaning methods such as acetone or steel wool sponges to clean acrylic bathtubs. These methods can cause significant damage to the finish of the bathtub. Products such as baking soda, borax powder, shampoo, and white vinegar can be used to properly clean and keep the bathtub safe. These things are completely safe for your skin as well as the acrylic tub.
Dive deeper to find out exactly how you should use safe products to keep your acrylic tub clean.


Tip 1: Deep cleaning of the acrylic tub
Without a doubt, you can easily find a commercial bathroom cleaner that can help your tub look clean. However, these products often contain harmful chemicals that should not be used to clean acrylic bathtubs. Therefore, using natural products is a much better option for cleaning your tub.
White Vinegar helps clean the surface of the bathtub and gives it a new, shiny look. Prepare a spray bottle and add warm water and white vinegar. After mixing the solution properly, spray it on the surface of the acrylic bathtub. Leave it for at least 15 minutes. Then use a microfiber cloth or a soft sponge to properly wipe the surface of the tub.
After treatment, wash the tub with clean water and wipe again with a dry cloth. Now you can enjoy the fantastic and elegant look of your acrylic bathtub.
Tip 2: Removing mild stains from your acrylic bathtub
The best thing about the acrylic bathtubs is that they are easy to clean and maintain. You don't need to buy an expensive off-the-shelf cleaner to remove light stains from the surface of an acrylic bathtub. This can be done using natural products.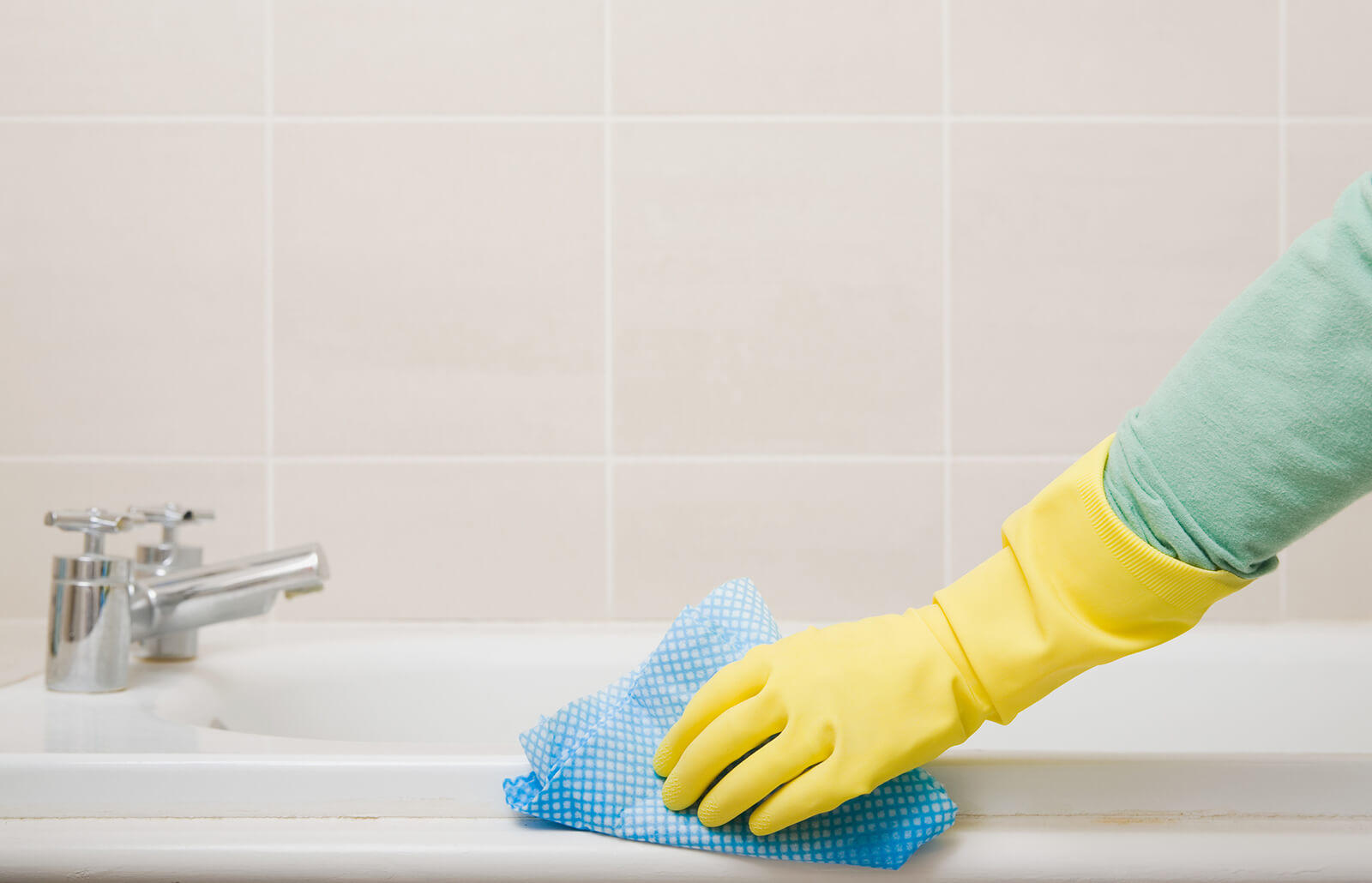 You can make the bathtub shine with just vinegar, baking soda, and water. Sprinkle baking soda on the dirty part of the bathtub. Then mix the vinegar with water and spray the solution onto the surface of the acrylic tub. Leave it for a few minutes.
Next, take a soft sponge and rub the surface properly. Clean and wash the tub to see how beautiful it is.
Tip 3: Removing tough stains from your acrylic bathtub
It is important to clean the acrylic bathtub regularly. Otherwise, light stains will turn into stubborn stains, which are usually much more difficult to remove. But if you notice such stains on the tub, don't worry. Using hydrogen peroxide and baking soda is an effective way to deal with the stubborn stains on acrylic bathtubs. Mix 1 part of hydrogen peroxide and 2 parts of baking soda to make a cleaning paste. Apply this paste to stubborn stains and leave it for about 60 minutes.
Then take a soft sponge and gently rub the surface. Then remove the paste and wash the acrylic tub with clean water. If you still see dirt, you can repeat the entire process from the beginning.
There is another method that can be used to remove stubborn stains from the tub. If you find that the tub is very dirty, add boiling water to the acrylic tub and add 2 cups of vinegar. The acid contained in the vinegar quickly removes dirt and dirt without compromising the finish of the bathtub.
Tip 4: Removing hard water stains from the acrylic bathtub
To effectively remove dirt from an acrylic bathtub, you first need to identify the type of dirt you are treating. Very often, homeowners may see stains on the surface of acrylic bathtubs.
These stains are usually caused by hard water. White vinegar helps remove these stains in a short amount of time. 
You can put white vinegar in a bowl and put a paper towel in it. Next, you need to put a towel on the dirty part. Leave a paper towel for about 2 hours to get the job done. After removing the towel, apply a cleaning paste made of baking soda and vinegar. 
Let the paste work for a few minutes. Then rub the dirty area with a soft sponge. Finally, remove the paste and rinse the surface of the tub.
Tip 5: Removing rusk mark from the acrylic bathtub
It's annoying to see rusty stains on the surface of the bathtub. Rust can leave a very negative impression on your guests and even ruin even the best bathroom designs. But how can you effectively remove these stains and make the tub look nice again? Make a paste of water and borax. Remember that the paste needs to be thick. Therefore, a small amount of water should be added for proper consistency. When the paste is ready, spread it over the rust stain.
Wait 25 minutes, then rub the dirty part. Then remove the paste and rinse the tub well. If the rusted stains have not been completely removed, repeat this process.
Tip 6: Products that you can use to clean your acrylic bathtub
Besides vinegar, baking soda, and borax, several products can be used to clean acrylic bathtubs.
Lemon is effective when it comes to removing light stains. The acid contained in lemons can destroy bacteria and bacteria. Rubbing the surface of an acrylic bathtub with sliced ​​lemon is a quick and easy way to remove soap scum. Lemon juice also helps remove rusty stains that may appear on the surface of the bathtub. As you can see, lemon is an excellent cleaner that makes the bathtub look good and keeps it fresh.
If you like to bake, you probably know what cream tartar is. This is a  dry by-product of winemaking in powder form. Due to its acidic properties, tartar cream can also be used successfully to clean many things in your home, including acrylic bathtubs.
For putting off stains, you could blend some tablespoons of cream of tartar and upload hydrogen peroxide to make a paste. Apply this paste to the stained regions of the bath. Then, wash the bath properly. You will see how speedy and correctly the dust may be eliminated from the floor of your bath.
Laundry detergent is any other powerful cleansing solution. This product let you eliminate dust, mold growth, and cleaning soap scum residue and make your tub appearance vibrant and fresh. It might be sufficient to take 1 cup of powdered laundry detergent and upload water to it to put together a thick paste.
When the paste is ready, unfold it at the stained area. Let the paste take a seat down for approximately 20 minutes. Then, you ought to take a smooth material and rub the stains till you put off them.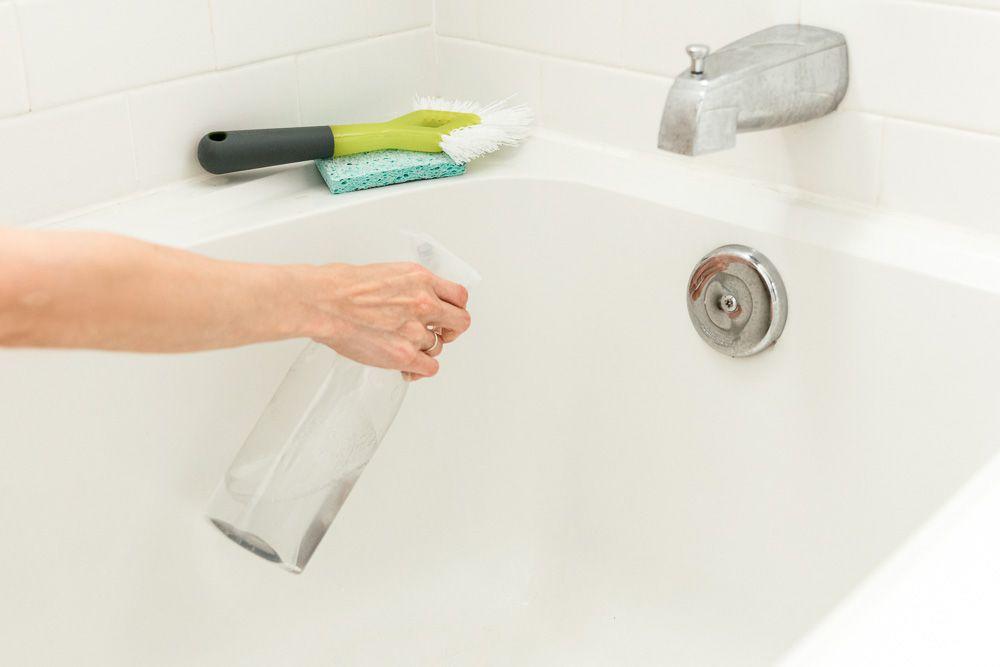 You may additionally use liquid laundry detergent to ease your acrylic bath. Mix 1 tablespoon of liquid laundry detergent with a cup of warm water. Put the scrubbing brush into this combination and rub the whole floor of your bath. And finally, rinse the bath with easy water. You can repeat the methods, if necessary.
The shampoo is likewise a powerful restroom cleaner. It could be tough to put off difficult stains with shampoo. However, it nevertheless could make your acrylic bath stunning and sparkling. You ought to moisten the bath with heated water earlier than beginning the cleansing manner.
Then pour a small quantity of shampoo on a humid piece of material. Rub the floor of your acrylic bath. Rinse the bath and repeat the manner in case you assume that your bath isn't always easy or sufficient.
Tip 7: What you can do when cleaning your acrylic tub
Before removing dirt from the acrylic tub, make sure the tools you are using are safe and do not damage the finish of the tub. You should also use safe homemade neutral products for your bathtub. Open the bathroom doors and windows to provide adequate ventilation.
Always keep in mind to wear rubber gloves to protect your skin. Wear second-hand clothing when cleaning the bathtub, as some chemicals can stain or damage your clothing.
Remember to test the product in a small, unobtrusive place before using it on the entire surface of the tub. It helps to understand if the detergent is completely safe and does not harm the tub.
After using the detergent, wipe the tub thoroughly, and rinse it so that no residue is left on the surface of the tub.
Tip 8: Things to avoid when cleaning the acrylic bathtub
When it comes to cleaning acrylic tubs, there's a right way and the wrong way.
Proper cleaning products can help extend the life of your bathtub. In addition, the bathtub is always clean and shiny.
However, choosing the wrong product risks damaging the bathtub. In this case, you will need to repair or buy a new acrylic tub.
When purchasing a new acrylic bathtub, be sure to read the instruction manual that came with the bathtub. It will help you understand how to take care of the tub to keep it beautiful. The majority of acrylic bathtub manufacturers do not recommend the use of bleach or other abrasives.
Bleach is known as a powerful disinfectant. However, it can damage or discolor the acrylic bathtub. Bleach can cause serious damage to your skin. Inhaling bleach smoke is also dangerous. Do not mix this chemical with other cleaners. Their combination can generate toxic gas. The combination of chlorine bleach and ammonia can even burn the skin. Always keep in mind that mixing chemicals are extremely dangerous. Especially if you don't have the proper knowledge of the subject.  If you have a colored acrylic bathtub, you cannot use chlorine bleach. In some cases,  powdered oxygen bleach can be used to clean the bathtub.
Do not use a coarse cloth or sponge when cleaning the acrylic bathtub. These materials can scratch the surface of the bathtub. Also, avoid using steel wool.
Tip 9: Maintaining your acrylic bathtub
Some homeowners believe that acrylic bathtubs should not be cleaned until signs of discoloration become apparent. You should clean your tub often, at least once a week. Remember that soap scum, grime, and dirt buildup and become very hard to remove. As a result, you have to spend a lot of time and effort to make your tub nice and shiny again.
You also need to completely rinse the acrylic tub every time you use it.
It significantly reduces the amount of buildup during your weekly cleaning and prevents mold growth. It is advisable to remove all toys from the tub so that the bottom of the acrylic tub is not soiled with water.
Don't forget to clean the awkward corners of the bathtub regularly. Keeping the acrylic tub clean and shiny isn't as difficult as it sounds. Follow the simple care instructions and treat the bathtub gently. That way, you can enjoy its comfort, appearance, and durability for years to come.
Final thoughts
Remember to thoroughly clean the drains as well as the tub and shower. Shower drains should be cleaned and precautions are taken regularly to prevent the bathtub from becoming clogged.
This is the only way to prevent hair and other dirt from getting into the drain and clogging it. You should put a strainer in the drain every time you take a shower to keep hair and dirt out of the drain. Then clean it every time you take a shower.
And that's all about how to clean an acrylic tub and keep it clean.
Cleaning the bathtub is a hassle, but I don't want to give up the bath. To make your tub your favorite place and sanctuary after a busy day, you need to turn it into an oasis of happiness. We wish you a lot of fun and course a lot of relaxation!