A Buyer's Guide to Shower Room Glass
While buying round for bathe products, you could see a few objects bringing up an exceptional bathe glass thickness.
These items may contain glass parts or components such as the entire shower enclosure, full-size shower enclosure, etc.
The shower glass thickness is measured in millimeters and refers to the depth of the glass from the side. There are different sizes on the market, so it is essential to understand the benefits or benefits before buying. It also helps clarify price differences when considering the benefits of spending more on glass shower products. Why do we need to worry about the thickness of the shower glass against such a background? And what are the strengths and weaknesses of each size? This guide is intended to provide inside information about all these and other questions, including common jargon you may come across regarding shower glass thickness.
The Basics of Shower Glass Thickness
Not all shower glasses are indeed made of the same thickness. This is due to the variety of frame options, and the shower glass's thickness also affects the glass's weight.
According to experts, frameless shower door glass usually comes in two thickness options, 3/8 inch, and 1/2 inch. The minimum thickness required for glass door stability and overall strength is 3/8 inch. Using the most negligible thickness for shower glass doors has become a popular option as it is more cost-effective than thick glass.
However, thicker glass can be used for a more striking look for aesthetic reasons. It is also important to remember that large shower glass panels require robust hardware to support them. Therefore, consult a reputable shower glass installer to find the best option for your project.
Types of Shower Glass
When deciding on the thickness of the shower glass and whether it is framed or frameless, you also need to know the type of glass used for shower doors. There are two types of glass: laminated glass and tempered glass. Experts are now encouraged to use tempered glass when building shower doors. Tempered glass is considered a good choice for the shower glass, as it crushes into the smaller glass instead of large, sharp glass.
What is the difference between laminated glass and tempered glass?
There is a big difference between these two types of glass. After all, the main difference is summarized in how the glass breaks. The tempered glass breaks into pieces, and the laminated glass stays together because a layer of plastic is baked between the two pieces of glass.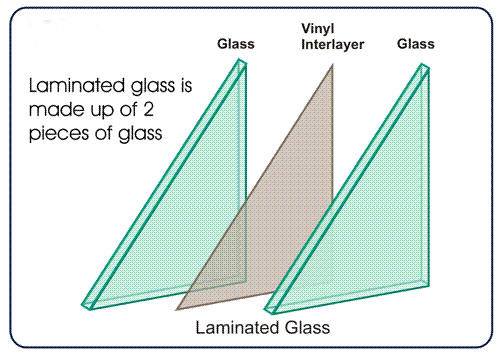 Consider The Different Parts Of The Door
The glass shower door consists of three main parts. There is a glass pane, a hinge that connects to the pane, and a hinge that connects to the wall. This hardware should also be kept in mind when determining the thickness of the shower door glass.
1.

    
Glass panel
As a general rule of thumb, it would be better to use 3/8 inch glass to constantly open and close the door. The doors move automatically, so you should choose thin glass to avoid overstressing the hinges.
2.

    
Door hinges
If possible, choose a more robust hinge to support the thicker ½-inch glass. This allows the hinge to support its weight in the first place, improving the performance of the hinge and making it easier and more prolonged.
3.

    
Wall hinges
What applies to door attachment hinges also applies to these. Durable ones last longer and are less likely to come off the wall due to weight.
Shower Enclosure Styles
How the shower enclosure is sealed also affects the thickness required for the glass. The three more common case styles are frameless, semi-frameless, and framed. The main points of each are shown below.
1.

    
Frameless Shower Enclosures
Frameless shower doors are sophisticated look shower enclosures that minimize line of sight due to the lack of a frame. Instead, that framing is replaced by individual hardware. The hardware connects separate pieces of glass and allows the shower door to be operated. The hardware is so prominent and exposed that it is an aesthetic element of the shower room. In the absence of a frame, shower door glass must contribute significantly to the structural integrity of the shower room. That means the glass is typically thicker and heavier than the glass used for shower doors with or without frames.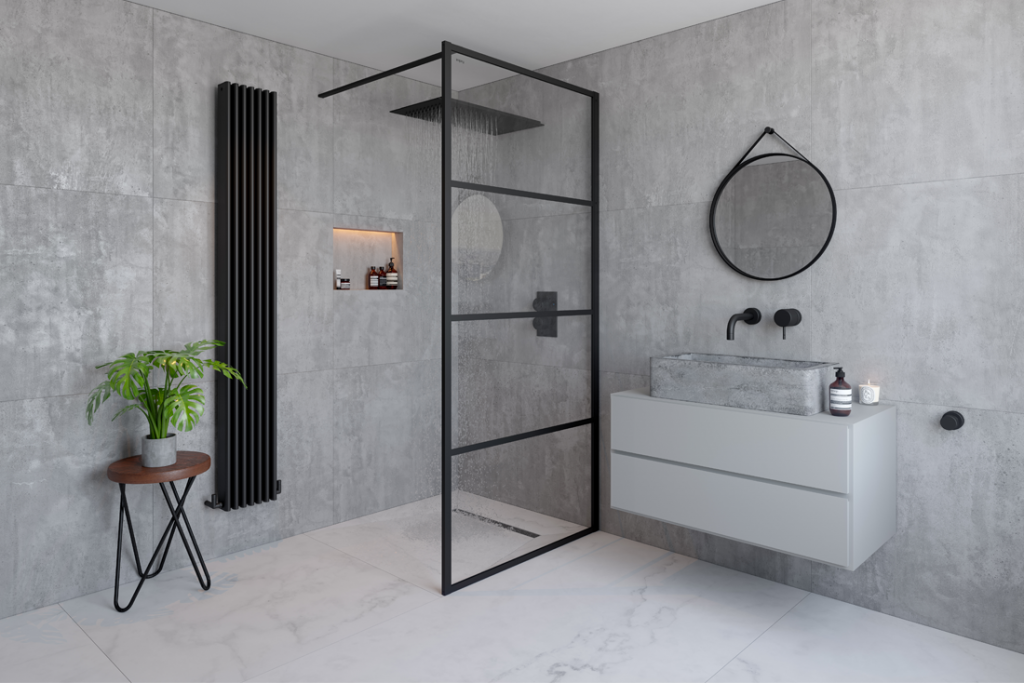 2.

    
Semi-frameless Shower Enclosures
Semi-frameless shower doors are between framed shower doors and frameless shower doors. This shower door has a frame on one or more glass plates. An example of this is a panel with a frame that leaves the door unframed. Or it could mean that all panels are framed at the top and bottom, but there is no frame in between. Semi-frameless shower doors are more aesthetically pleasing than framed ones because they have a minimal line of sight. The Semi-frameless shower glass does not need to be as thick as frameless, but it is considerably thicker than framed shower glass. Therefore, it's a good midway point from a cost and weight perspective.
3.

    
Framed Shower Enclosures
Shower doors with frames are most often imagined when thinking about shower enclosures. These cases surround all four corners of the glass panel and feature a metal frame that secures the case to the bathroom wall. The frame provides structural integrity and can thin the glass itself. This makes the device relatively cheap. The frame is thinner and usually comes in various styles to suit every taste.
How Thick Should the Glass Be in the Shower?
In a period of how thick the glass ought to be, that is a count number of personal choices. Many producers specify that the thicker the glass, the better the feel of luxury and that you could experience the difference, in addition to being reassured through the quality. It is worth noting that the thicker you go, it's also possible to be extra expensive.
6mm or 8mm Shower Glass?
There are several advantages to choosing 6mm glass over larger sizes like 8mm.
●       Cheap-Perfect if you have a limited budget
●       It is widespread and is perfect for spare parts, fixtures, and accessories.
●       Choose from a wide range of styles, colors, finishes, and designs
●       Safe and comes with all certifications such as BS standard, provided for larger sizes
Still, with 8mm glass, you're buying a high level of quality, but a few millimeters thick adds confident strength.
6mm/8mm or 10mm Shower Glass?
When comparing the thickness of a small shower glass to a large one, like a glass with a thickness of 10 mm, it is all about quality and feels. Some brands are stereotyped and use well-made and reliable car metaphors. You can see the difference. For example, the shower door will feel more solid, and the sound of closing the door will be of higher quality.
The extra thickness provides more security and protection. Still, the other advantage is that the quality of the components and fixtures around the glass must be more durable as the extra weight is carried. ..
Nevertheless, like other sizes, 10mm glass has pitfalls. The extra weight can stress other components, not just the glass itself, and shorten its lifespan. Therefore, keep that in mind before making a decision.
What Should be the Glass Thickness For a Shower Door?
Shower doors must be more resilient because them being in high usage, high-impact areas. Again, 8mm tends to be a preferred choice for shower doors. However, there's a discernible difference between 8mm and 10mm, with a smoother opening and a sturdier feel. Many of us who visit our bathroom showroom in Leeds tend to upgrade to the larger size, mainly thanks to the noticeable difference in feel and quality. These are the sizes that are commonly best for hinged shower doors or sliding shower doors.
Despite this, if you want to keep costs low, you'll get shower doors as low as 4mm toughened glass, which is the thinnest size, still 6mm. These tend to return with more folding doors where the impacts are likely more minor.
1.

    
Best Thickness of Glass For Wet Room or Walk-In Shower Screens
When it comes to wet room dividers, walk-in shower enclosures, or shower screens, the thicker, the better, so 10mm is a good choice, but it can be reduced to 8mm if desired. That's because it's usually a freestanding glass wall held in place with one or two brackets, so you need something that can hold up, especially in slippery areas.
2.

    
Best Glass Thickness For Over-bath Shower Screens
You can pay for a larger size, but 6mm or 8mm is ideal for shower screens. On the one hand, they do as a protective barrier as a splash guard to prevent water and moisture from reaching other bathroom areas. The same applies to the hinge type. The lighter it is, the easier it is to move.
Why Should You Always Go For Tempered Glass?


Shower glass doorways are usually made from tempered glass for excellent reasons. Tempered glass is a lot more secure and greater long-lasting than not unusual place glass, which makes it best for the sort of high-visitor places like a shower! While now no longer unbreakable, tempered glass is more secure if it breaks into dull, oval-formed pebbles as opposed to sharp, jagged pieces.
What Is the Standard of a Shower Glass Thickness?
In most cases, the typical thickness of shower glass is 6 mm. This is due to the combination of weight and durability. First, the shower glass must withstand the forces of items such as shower doors and dividers that are exposed to shocks and movements, especially during use, cleaning, and maintenance.
For cases and cabs, they must be sturdy and sturdy, as they need to not only withstand moisture and use but also provide a reliable long life and a high-quality feel. 
The thinner the glass, the more brittle the glass can be, of course, so the proper thickness will help improve protection against both problems.
Other sizes you may come across are:
●        4mm
●        5mm
●        8mm (also common)
●        10mm (also common)
●        12mm
If you're considering a non-standard or more ambiguous size, remember that matching items (such as shower doors) and surrounding items such as shower trays are often limited to that range or brand. Please. In addition, braces, hinges, or other supports to hold the glass in place may only be available from a selected number of suppliers. Therefore, it is worth considering a more standard size in case it needs to be replaced or if you want to update the space.
What Are the Best Glass Thicknesses?
Based on that, it may sound like the optimal or optimal glass thickness is the maximum, but it depends on the purpose.
It's always worth visiting the nearby bathroom showroom where shower products are displayed so you can see the difference.
Is it Required for All Of My Shower Fitting Needs To Be The Same Thickness?
It may be convenient to think that all shower parts need to be the same size, but this is not always the case. For example, in some cases, it may make sense to use a shower door that is much more stable than a traditional shower panel or screen.
However, the most important thing to remember when buying shower glass products is that some manufacturers only have products that can be used with their shower faucets or trays. Therefore, it is worth investigating flexibility in advance, especially if you are shopping.
What Is The Best Glass Thickness for Shower Enclosures?
If there is a balance between affordability and reliability, 8mm tempered glass is ideal for shower enclosures. This provides sufficiently stable support housing.
However, personal situations are critical. If you are looking for the most cost-effective glass thickness for your shower enclosure, 6mm reinforced safety glass is ideal, while 10mm is more luxurious. Provides a nice feel.
What is Safety Glass?
Some products are stated to be made of safety glass. This means that the glass is designed to withstand much greater force, working in case of breakage, minimizing the risk of injury while making it harder to break. There are various types of safety glass, such as laminated and tempered glass. The latter is most commonly used in shower products, all of which must comply with BS standards such as BS EN12150, EU Directives, and CE marking. Our shower products come from renowned suppliers so that you can rely on their quality.
What is Toughened Glass?


The term "tempered glass" is used very often concerning the thickness of shower glass. Tempered glass is glass that has been heated intensely and cooled rapidly to create a stronger material than standard glass.
Tempered glass is designed to be broken into small pieces, as opposed to large pieces of glass that can cause serious injury when broken. This is different from laminated glass. Laminated glass stays in place when it is shattered or subjected to bursting forces.
How Strong is 4mm-10mm Toughened Glass?
When it comes to strength, it depends on the glassware and the depth of the glass. Tempered glass is twice as strong as standard glass, usually for 46 mm products, but at the high end, 10 mm is estimated to be as strong as standard five times tempered glass. It will be done. Labman Automation has tested how strong some types of tempered glass are in the video.
Are you ready to pick out your shower glass??
If you're considering upgrading your current shower glass door, hopefully you'll have a better idea of the thickness of shower glass you might need. It should also be noted that these updates should be left to the experts, as the shower glass panels are heavy and may cause injuries if installed incorrectly. Check out our website when you're ready to refresh the glass doors of your shower.