At present, there are many waterproof materials on the market, and there are various brands of waterproof materials. For bathroom waterproofing, it is cost-effective to waterproof polypropylene. High-quality waterproof materials can enhance the waterproof effect of the shower room. Deodorant floor drains need to be stored multiple times before use. After many long-term storage tests, there is no flooding or standing water, so you can use it with confidence.
When decorating the shower room ceiling, the microporous aluminum gusset with waterproof and moisture-proof effect is the first choice. This material not only circulates the air in the shower, but also reduces condensation. Families with a sufficient budget for decoration can also choose to make gypsum board ceilings. The editor reminds everyone to pay attention to the paint of waterproof putty before doing the ceiling. Avoid PVC ceilings, which are poorly waterproof and often produce condensation and dripping.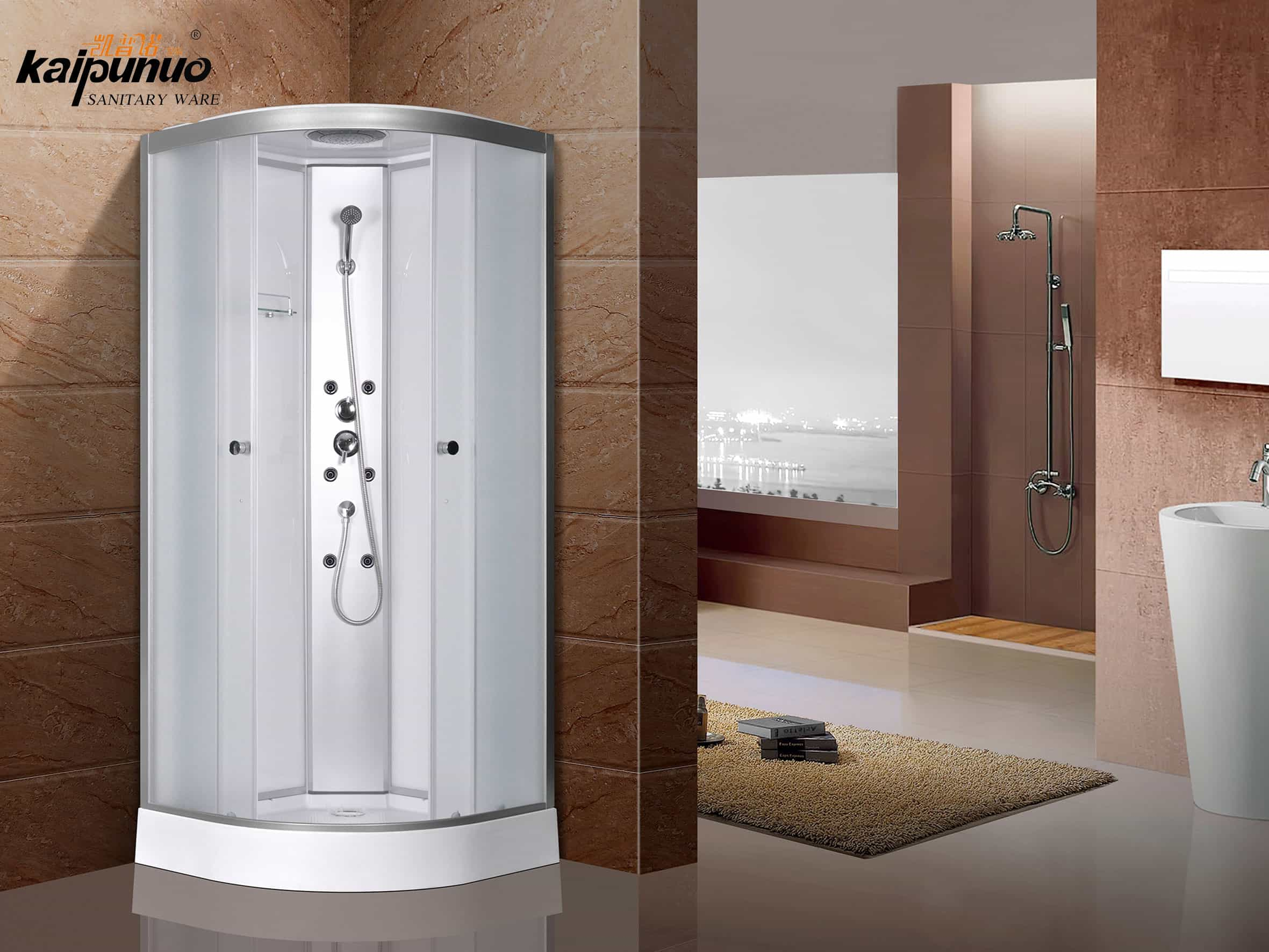 To buy bathroom products:
If you want better waterproofing in your shower enclosure at home, you need to be extra careful when choosing your bathroom. It can guarantee the quality of general well-known brand sanitary ware, and the correct horizontal position during the installation process can also improve the waterproof effect.
Appliances in shower enclosures must be constantly exposed to water vapor, so choose products with stainless steel enclosures when purchasing. Products of this material are not easy to corrode and have a long service life.
Kaipunuo Sanitary Ware Co., Ltd
 is a professional China 
OEM Shower Stalls Manufacturers
 and 
wholesale Shower Stalls Kits Suppliers
, established in 1997 in Pinghu, Zhejiang province, China, which integrates design, produce, sales and customer service vertically for our customers in more than 20 countries all over the world. We are the first manufactory use no-screw set up technology in sanitary ware industry and awarded dozens of international patents and certifications in the past years. We supply 
Shower Stalls & Kits & Enclosures wholesale
and our products are mainly exported to dozens of countries including the United States, Germany, Japan, Spain, Italy, the United Kingdom, South Korea, Australia, and Canada. With the faith of "Ever No.1", Kaipunuo keeps providing the best bathroom solutions to our customers and sincerely wishes to cooperate with friends all over the world to build a prosperous future together!
If there are no special circumstances, try not to over-modify the original plumbing laid in the shower. If the pipe is replaced, the connection must be closed tightly to prevent water leakage. The interior decoration of the shower room should use as little wood material as possible. When it must be used, a waterproof coating must be added to the exterior of the wood material.