Summary:Another kind of shower room is the shower cabin. It is compa...
Another kind of shower room is the shower cabin. It is comparable to a shower enclosure but with several additional characteristics. If you've never heard of shower cabins, I can discuss them in greater detail.
A shower cabin is a fully enclosed shower room with walls, a roof, and a tray. In comparison to a shower enclosure, it completely seals in the water. You can add other features such as steam showers, lights, jets, audio systems, and many more.
If you want to add something modern to your remodeling, try shower cabins. You can also keep reading for more information!
What Is a Shower Cabin?
You can think of shower cabins as a more sophisticated version of enclosures. Compared to a shower enclosure, which is only usually glass and frames, shower cabins can look more complex because of the shower and other things inside it.
Before we go into how they work, let's look at the anatomy of a shower cabin.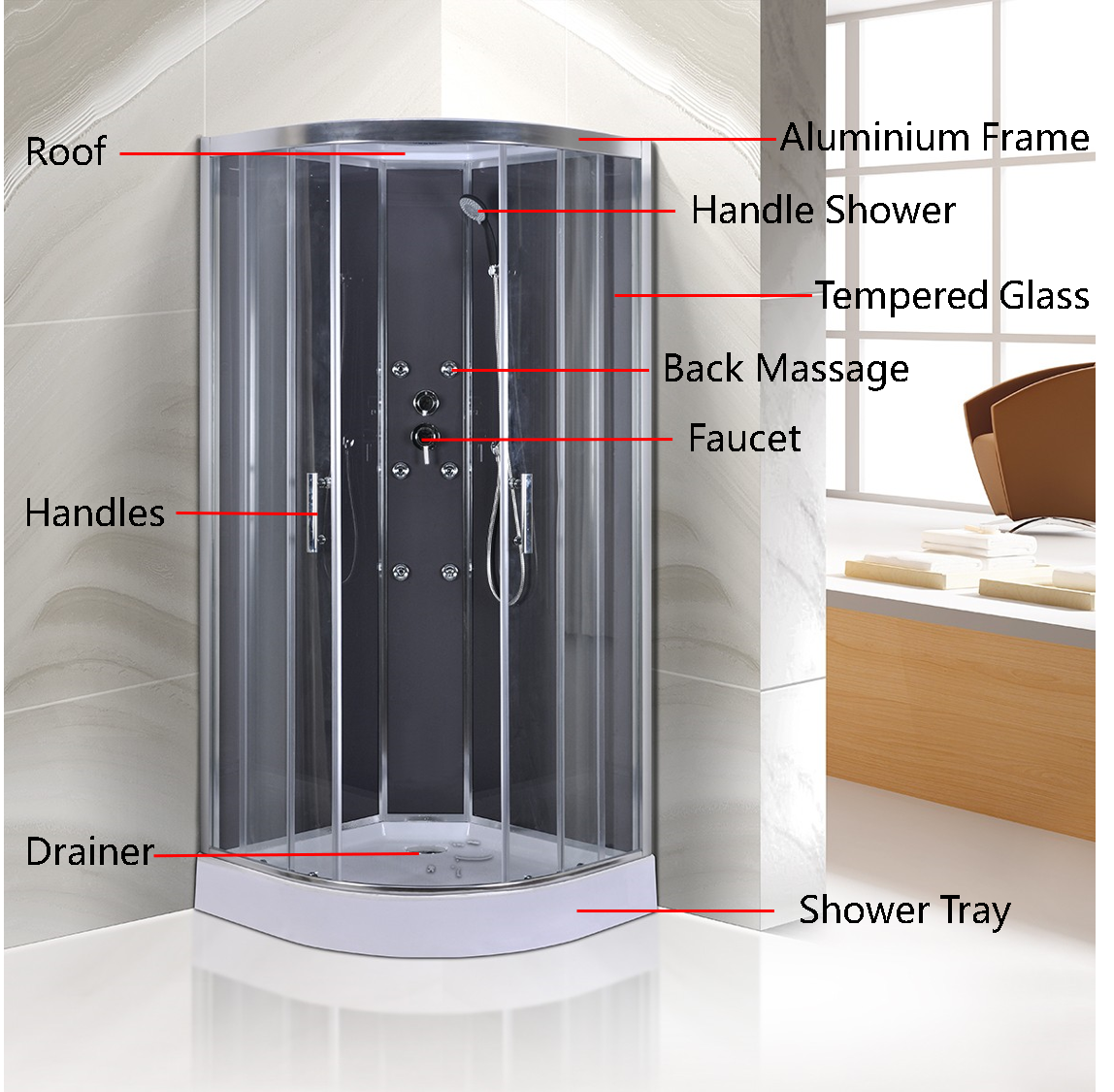 It has the same key features as a shower enclosure: the frame, glass doors, handle, fixed panel, drain, and shower tray. On the other hand, the shower tray is not optional; it is necessary to keep the water contained.
There is also a roof, an optional shelf, and steam, as you can see. Small storage will be ideal if you want additional convenience in storing your toiletries and other items. Steam features are excellent for those seeking an improved spa experience.
Some cabins do not have a roof, and others have a waterfall shower attached to the ceiling of their shower cabin.
Because of their look, they are sometimes known as shower pods or shower cubicles. It does not require a wall surface because it comes with walls and flooring made of thermoformed acrylic and glass. As a result, you won't have to renovate the walls or the floor.
When placed, the base is leveled with the floor, and the tray covers what's inside. You should install extra wiring and connections for additional functions. If you are unsure how to get it done, you should seek the assistance of an electrician.
There are various shower cabins, which usually rely on your desired amenities.
Types of Shower Cabins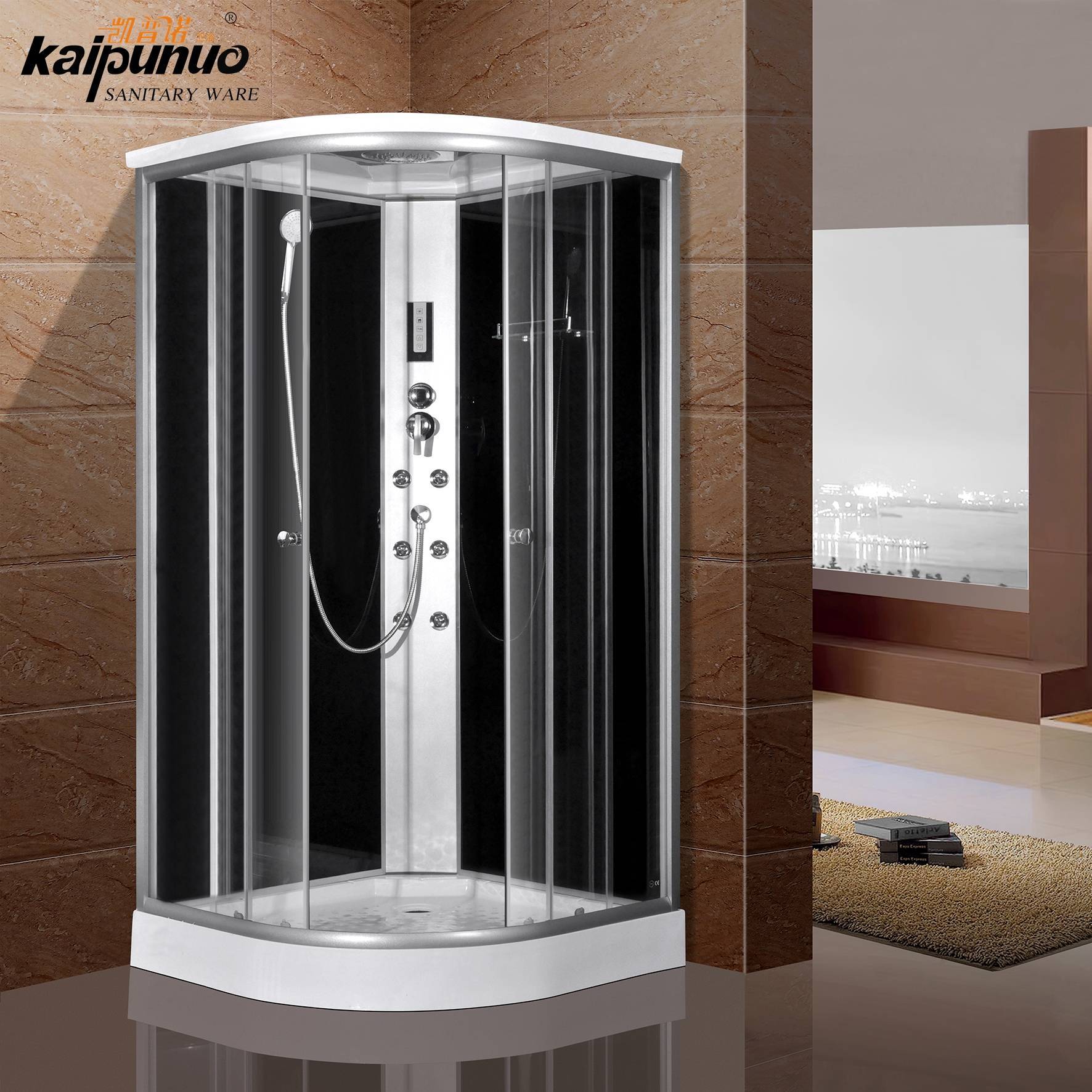 There are numerous shower cabins on the market, each with its own set of doors, shapes, and unique attributes. If you wish to extend your options or learn more before purchasing, this section will introduce you to these variations.
Shower cabins can be circular, square, rectangle, diamond, D-shape, or semi-circle. You can distinguish them by looking at the tray's shape. You can place most of these in a corner and some on a one-wall surface.
The majority of shower cabin door installations are either sliding or hinged. You can select the one you prefer or the best for your bathroom area.
Standard Shower Cabin - The most basic variation is the standard shower cabin. It has no extra features; it only has the essential components of a shower cabin must-have.
Steam Shower Cabin - They resemble typical shower cabins but include a pre-installed steam generator and are moisture-sealed. Water vapors are released through shower wall heads, creating a sauna-like feeling. Some steam showers have a bench or seat to allow you to enjoy the steam without exhausting your legs.
Massage Shower Cabin - They are also known as hydromassage shower cabins. The shower walls also have built-in jets. The jets direct water at your body, giving you a massage, hence the name. It provides health benefits such as alleviating muscle tension, stress, and other minor aches.
Bathtub Shower Combo - This is a shower cabin that includes a bathtub. Instead of a tray, a bathtub serves as the shower's base. This way, you can have a bathtub and a shower simultaneously. Various models include a soaking tub.
These are the most frequent types of shower cabins. Other variants with extra features designed especially for seniors, two persons, and foot massages are also available.
Things to Consider Before Buying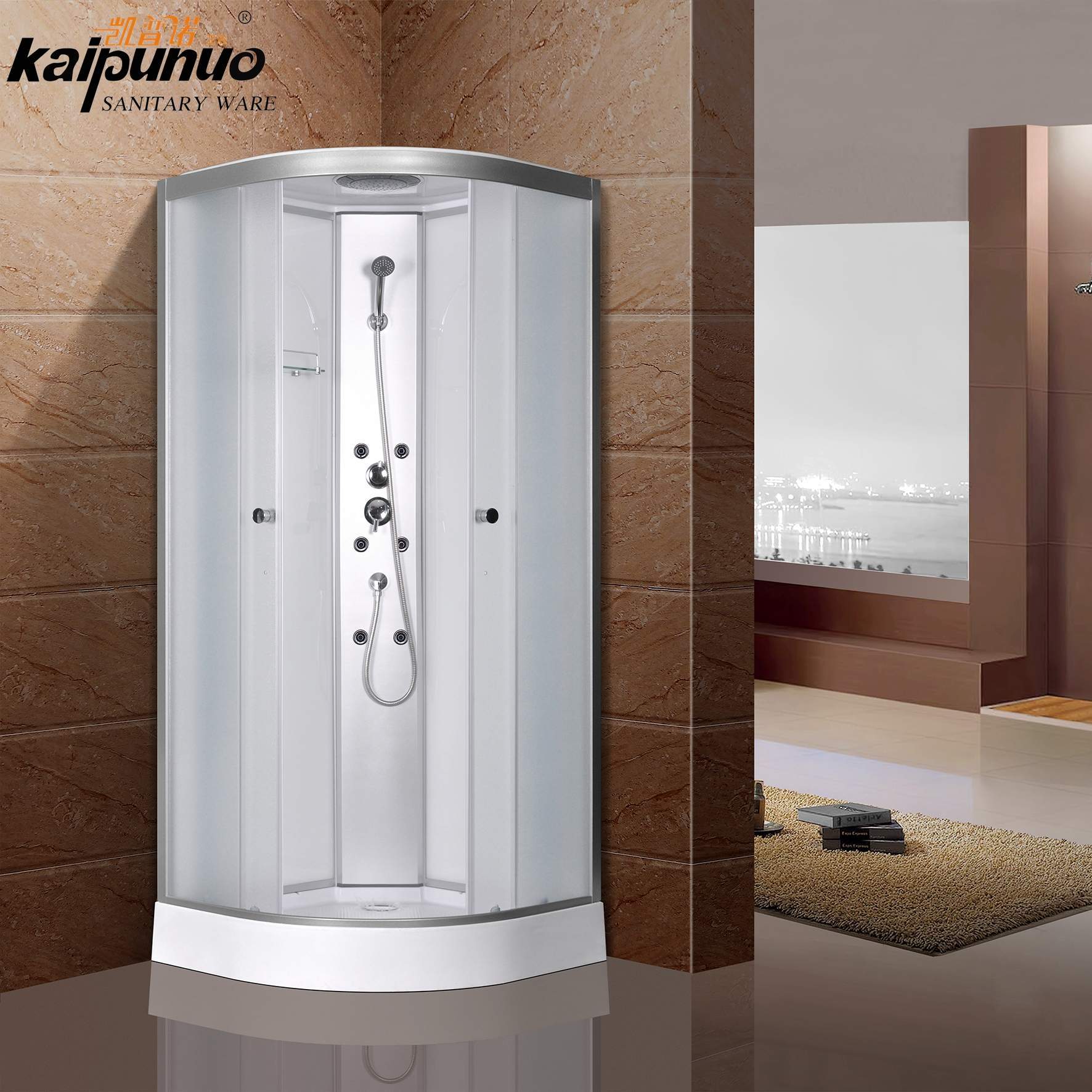 Because shower cabins may be unfamiliar to you, there is some additional information you should be aware of before making a purchase. It's important not to overlook these details because they may impact the installation procedure and how they want your bathroom to look.
Height & Space
Shower cabins take up a large amount of space. An average one will be 900 x 900 cm in length and width. There are larger cabins that are 1800 cm in length.
They are ideal for bathrooms with moderate to large spaces, so you should consider sizing up your bathroom measurements. Although smaller models are available, they may feel cramped and have limited room to move around, especially for larger people.
Cost
A shower cabin can cost between $520 to $2,100. The more features and size your shower, the more expensive it will be. For the price, you should consider the shower's components and functionality.
Aside from that, there are installation charges to consider. The unit will come in disassembled parts upon receiving. You can build it yourself, but the electrical and plumbing connections may require the help of an expert.
Heat and Water Consumption
A typical shower uses the same amount of water as a bath, but if you have a shower cabin with jets, expect to use more water than usual.
Massage shower cabins also use hot water. As a result, it is preferable to have a hot water storage tank that can hold 300 liters at most rather than instantaneous water heaters, which can strain the heating system due to the required volume pressure.
Pros and Cons
Of course, you don't want to overlook the benefits and drawbacks while discussing something new. It allows you to learn more and consider your options.
Pros
●      Shower cabins with steam, jets, lighting and an audio system provide therapeutic relaxation. You can even sit down and enjoy these at the same time. You are free to include as many features as you desire.
●      Your bathroom's dry and wet parts are separated, preventing water from damaging other fixtures. It also prevents mold from growing on the bathroom floor and corners due to moisture, keeping the bathroom clean and sanitary.
●      There is no need for renovation, which minimizes additional costs.
Cons
●      It is more expensive compared to shower enclosures.
●      Ample space is needed for it to fit. Aside from that, you should leave room for your entrance and the rest of your bathroom.
●      The cabin's interior will probably be smaller than the total dimensions. Claustrophobic people may struggle with the enclosed space.
●      Shower cabins typically convey a modern vibe that would mismatch with other bathroom styles. You could do an overall refurbishment to match it, but it will be more labor intensive and pricey.
You should remember these essential points and the information I have just provided. If you have any other thoughts or are ready to purchase one, you can find manufacturers eager to assist you.
Takeaway
Shower cabins are ideal for people who do not want to redo their entire bathroom but yet want to have a spa-like experience in their bath.
If you enjoy numerous bath therapies, try acquiring a shower cabin to upgrade your shower!