Guide to a better understanding of shower enclosure

Shower enclosures come in five shapes: D-Shaped, Quarter Circle, Rectangular, Round, and Square. The shower door can be left-handed or right-handed. Most shower rooms have a bathtub underneath, but some styles use floor tiles. Shower enclosures are defined as one or more panels that surround the shower area, but some models do not have doors.
When purchasing a shower enclosure, enter the shower area and stand with your back to the corner. Visually grasp in your head where the bathroom windows and doors are. Imagine a place where other obstacles such as toilets and toilets are located. If you want to open the left door, you need a left-handed shower enclosure. If you want to open to the right, choose a right-handed shower enclosure.
There are various designs such as clear glass, frosted glass, rain glass, cast glass, and colored glass. As for the thickness of the glass, the glass in the shower room is measured in millimeters, and the thickness includes 4mm, 5mm, 6mm, 8mm, 10mm, and in some cases up to 12mm.
5 Shapes of Shower Enclosure
● D-shaped
The D-shaped shower enclosure is the perfect solution to save bathroom space. This clever shower enclosure is designed to fit snugly against the wall. For small bathrooms, choose a D-shaped cabinet instead of a bathtub to make the bathroom feel spacious. The unique design helps to take advantage of the space in your bathroom, and its radius provides a spacious shower environment for you and your family.
● Quarter circle
Quarter Circle Shower Enclosures are a very popular way to install a free-standing shower in a modern bathroom. They have two straight sides that fit the corners, and the front glass is gently curved. The curved design provides ample space for the shower and an attractive look.
If you want to save bathroom space, the Quarter Circle Shower Enclosure is ideal. Ideal for ensuites and small bathrooms, the quadrant enclosure features a curved front that maximizes space. Quarter circle showers are designed to fit in the corners and usually have one or two sliding doors, but some have hinged doors. A staggered quadrant housing with one side longer than the other is also available.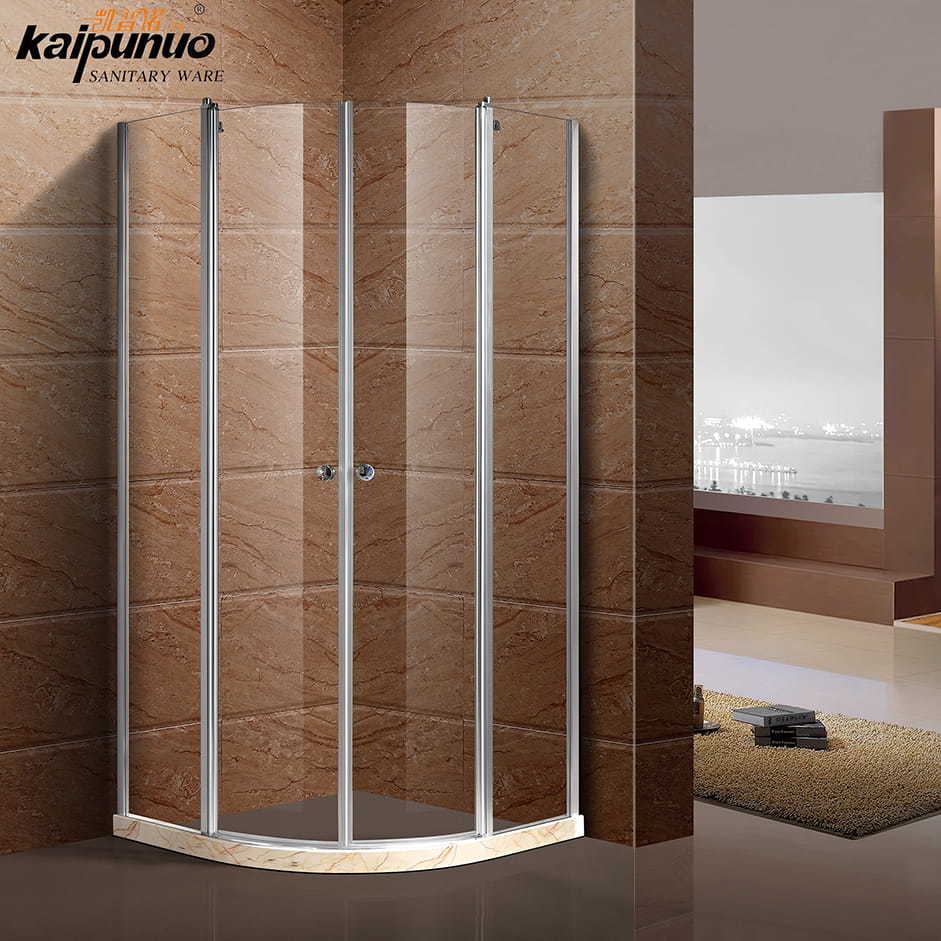 Advantages:
Saves space

Ideal for small bathrooms

Range of sizes to choose from

Stylish and practical
● Rectangular
In geometry, a rectangular one has four sides and four right angles. Serial boxes, dollar bills, and many cell phones have a rectangular shape. Everything that looks like a rectangle is a rectangle.
● Round
A circle is a shape with no corners or edges. In geometry, a circle can be defined as a closed two-dimensional curved shape.
● Square
The square shower enclosure is one of the most popular types in the UK and its shape makes it ideal for complementing small shower spaces and corners of existing bathrooms. Various square shower enclosures are available for different sizes of shower trays. Whether you're buying a shower enclosure for your existing shower tray or buying a shower enclosure and tray set together, we'll help you find the perfect combination for your home.
Easy to install, easier to clean, and maintain, this type of shower enclosure is available in a variety of both modern and contemporary styles to suit your bathroom style. Since the door is made of tempered glass, safety is also unforgettable. Combining all these benefits with the manufacturer's quality assurance and the price we think we can't beat,  you can't find a better choice of square shower enclosures anywhere.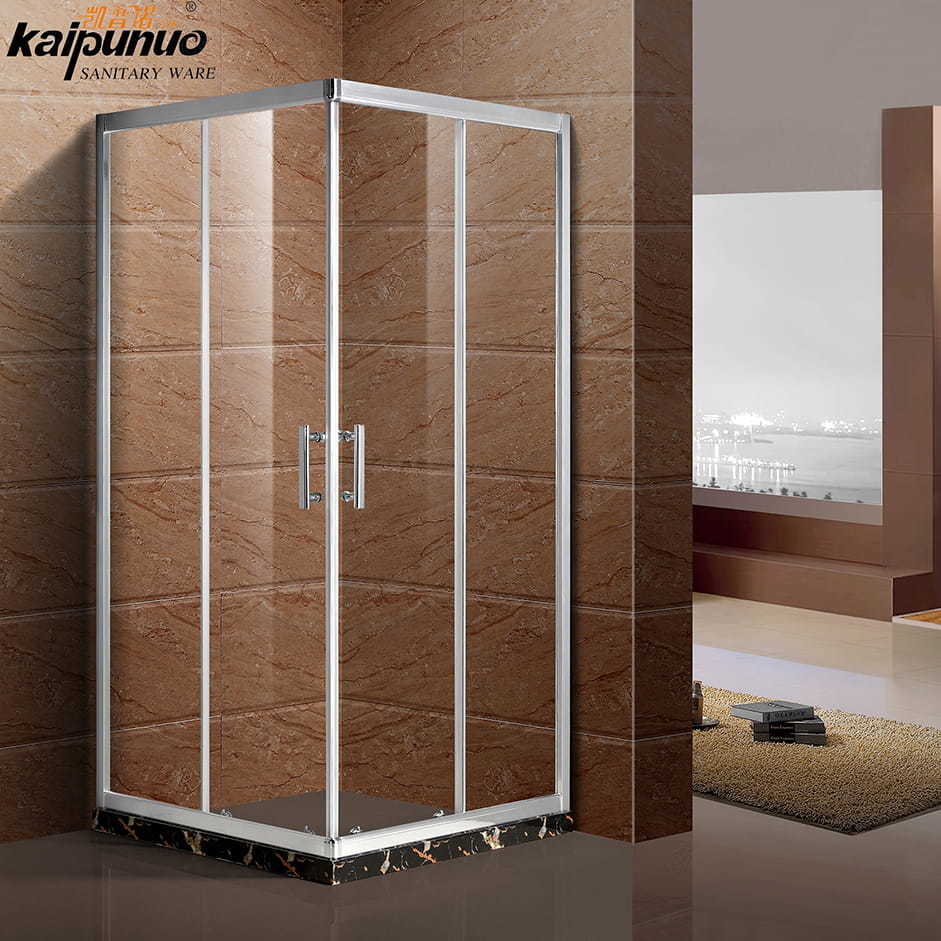 Types of Shower Enclosure
There are many shower enclosure designs and configurations to choose from. Your decision depends on the size and design of your bathroom and your style preferences.
●

     
Corner Shower Enclosure
The corner shower room is designed to fit snugly in the corner of the bathroom, saving space. Available in a variety of sizes such as 760mm, 800mm, and 900mm, it features two doors that slide open from the outer corners for easy access.
Advantages:
Helps to save space

Range of sizes to choose from

Stylish and practical design

Sliding doors for easy access
●

     
Dual Entrance
Modern couples love the contemporary look of dual entry shower enclosures. Do it if you have the space! The open sides of the screen also give the room a feeling of openness-ideal for tall, narrow tubs.
●

     
Hinged
The hinged shower doors are minimally styled for an open and airy feel. They are like swing doors, except that the door is held in place by a hinge joint instead of a pivot pin. This provides a much wider entrance for people in need of accessibility. Chrome handlebars complete the look of an ultra-modern designer.
The pendulum shower door is hinged on one side, so the entire door opens outwards towards the bathroom.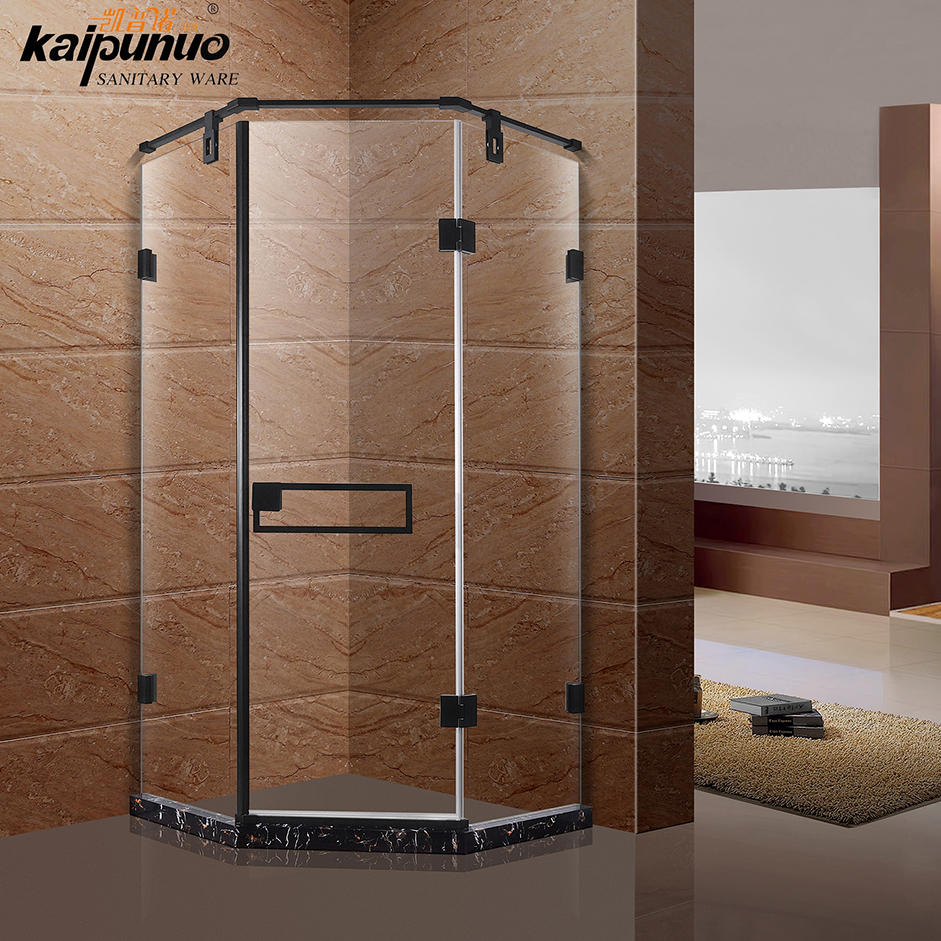 ●

     
Sliding
If you don't have space for swing doors in your bathroom, sliding doors are the best bet. Sliding doors can be adapted to any shower design and provide ample space for bathroom fixtures.
Sliding shower doors are the flagship of many of the bathrooms we offer. These are excellent space-saving solutions because the door itself does not open into the bathroom like traditional pivot doors. More and more sliding shower doors, including quick release bottom tracks.
●

     
Walk-in showers
A walk-in shower is a shower room without a shower screen or shower tree. Unlike traditional shower enclosures, there are no doors or large glass plates.
Walk-in showers are an excellent alternative to bathrooms where there is no space in a wet room. The floor has a bathtub like a traditional shower enclosure, but with more space.
Walk-in showers have become a popular choice to bring a sophisticated minimalist style to the bathroom, primarily driven by the desire to create a wet room look. A walk-in shower with a shallow shower tray can make it look like a wet room but without the hassle and expense of filling the walls and floor with tanks.
The Walk-in Shower Enclosure features glass panels and a slim shower tray that can be easily entered by leaving one end open. One of the main advantages of walk-in showers is that they require little maintenance and are easy to clean as there are no rails or hard-to-reach parts. Another advantage of the walk-in shower is that it has no doors to open and close, making it ideal for people with low mobility.
Advantages:
●       Can be used to replace a bath
●       Spacious showering and drying area
●       Creates a contemporary look
●       Optional end panels are available
●       Range of sizes
●

     
Framed
The framed enclosure contains a frame around both the door opening and each panel. It's the perfect way to complement the finish of other fixtures in your bathroom. Pros: Usually cheaper than frameless compatibles. It's easier to install than frameless.
Framed cases are traditional and cheap and can sacrifice aesthetics for functionality. Try a chrome finish instead of a brass or bronze frame.
●

     
Frameless
Frameless shower enclosures have become an integral part of modern bathrooms. The shower door consists of a single glass plate that rotates inside the room. The glass is easy to clean and maintain. It's even easier if the surface is burnt to repel soap scum and water stains.
It doesn't increase the size of the space, but it looks like that because it doesn't have a frame. Simple and beautiful frameless shower doors are also perfect if you want to emphasize the unique and complex shower tile design.
Choose a frameless shower enclosure if you want to create a cleaner and more contemporary look. The frameless shower room, which is ideal for enhancing the sense of space, is easy to clean and very smooth. You can install a frameless shower door with a corresponding side panel or glass wall in the wet room, which can be mounted directly on the floor or mounted on a low shower tray.
●

     
Tub Enclosure
In apartments with very small bathrooms, a common solution is to combine a bath and a shower. The tempered glass retains water inside and allows the fitting to be reached.
Different Types of Shower Enclosure Glass
● Clear Glass
As the name implies, this type of glass is completely transparent and translucent. Clear glass is the most commonly used type of glass  in  shower enclosures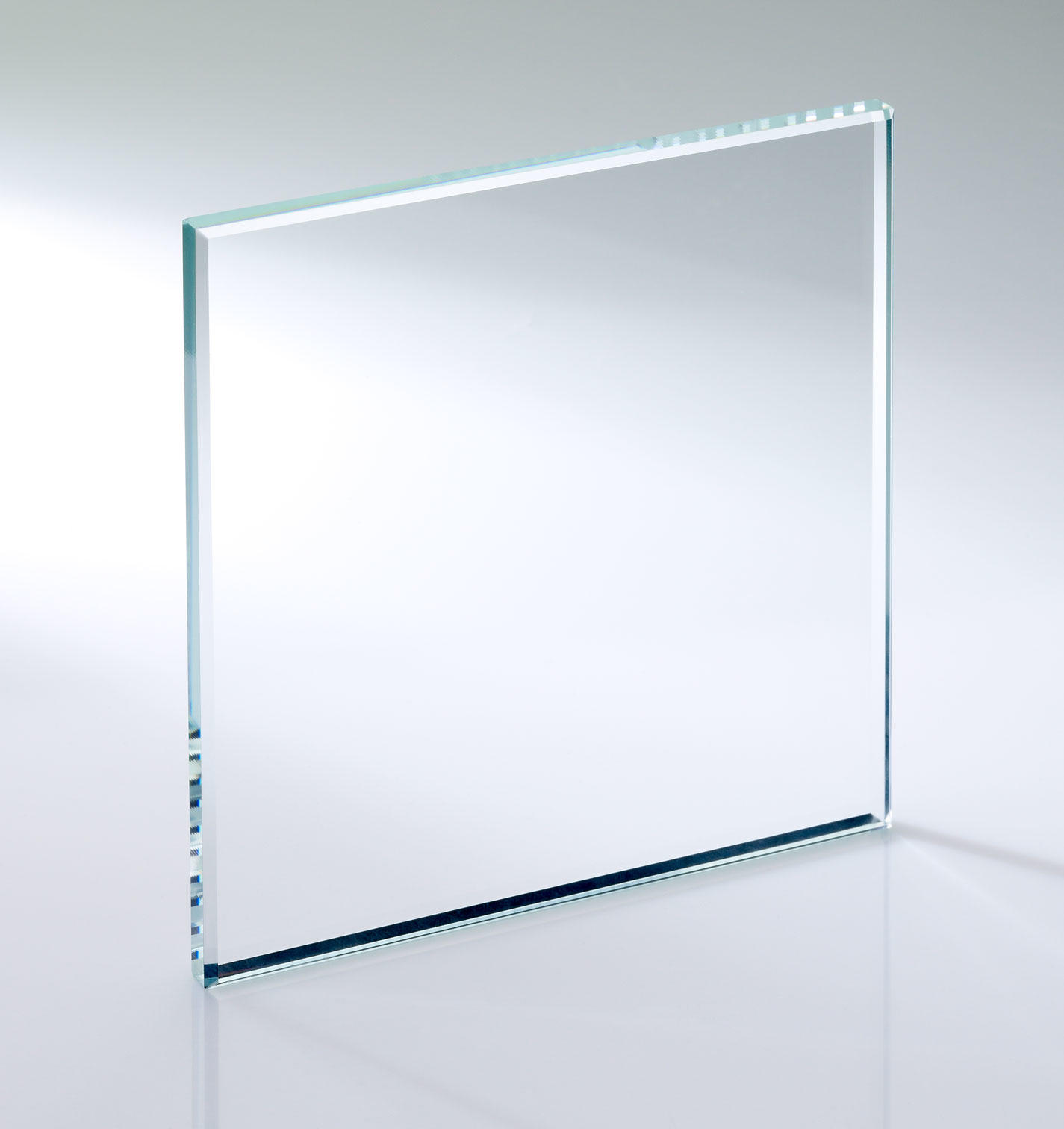 ● Textured Glass
Most textured lenses have patterns on both sides that keep the inner lens out of the way. The cast glass shower door is three-dimensional. The glass embodies a unique design throughout. They are true works of art and no two are the same.
Frosted glass is preferred by those who value privacy. Yet, woven glass with a Zen-like appeal is now becoming a popular alternative. Water dripping onto the glass reinforces these textured lines, creating a spa-like environment. Structured glass also makes the shower look bigger.
● Frosted Glass
It features a "frosty" appearance that reduces the opacity of the glass and obstructs the view of people inside the case. Generally, only one side of the glass is etched to create a matte effect, leaving the other side flat and smooth.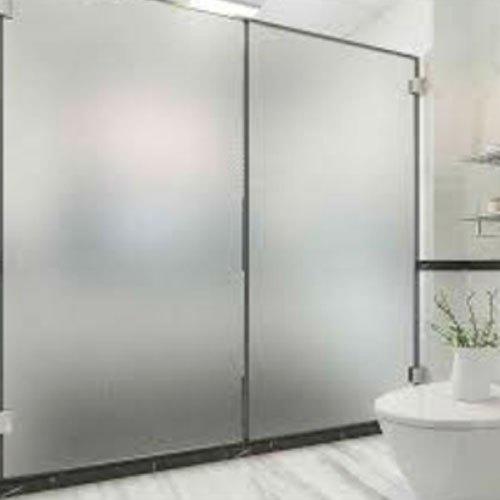 ● Rain Glass
Rain glass is a type of patterned glass that produces the effect of rain and water droplets falling. Like the frosted glass, the rain glass obscures the view of everyone in the shower room and has a pattern on only one side.
● Polar Glass
Polarized glass is also a type of patterned glass that provides the highest level of data protection.
● Tinted Glass
As you can imagine, this type of glass is a pale color, usually either bronze or gray. No privacy associated with rain, matte, or polar glass is created, but it may help reduce your ability to see inside the case.
Things to consider before buying a shower enclosure.
Why buy a shower enclosure?
First of all, it is important to decide what type of bathroom your shower enclosure is suitable for.
Is it for the Ensuite or Family Master Bathroom?
In a busy family bathroom, the shower enclosure needs to withstand daily knocks, knocks, knocks, so it's worth paying a little more to ensure quality and durability. For small bathrooms, you need to look for a space-saving design.
There are many reasons to buy a shower enclosure in the bathroom. The main reason is to provide a stylish and practical shower solution compared to the bath. The shower enclosure is easy to put in and out and has many designs that can be used to fit any bathroom. The shower enclosure is also ideal for replacing bathtubs that have never been used.
What size of shower enclosure is best for me?
The size of the shower enclosure is largely determined by the available space and bathroom layout. If you have a large bathroom, we recommend that you consider a walk-in shower, but if space is tight, folding doors or quarter-circle stalls offer space-saving options. Next, we will explain how to measure the shower enclosure.
Does shower enclosure glass thickness matter?
Shower enclosures are made of reinforced safety glass and come in a variety of thicknesses, which affects the price. At the low end, cheap shower enclosures use 4mm glass, midrange enclosures use 6mm glass, and the high end uses 8mm glass. The thickness of the glass is not the only quality feature, but the hinges, rollers, and wheels also play a role.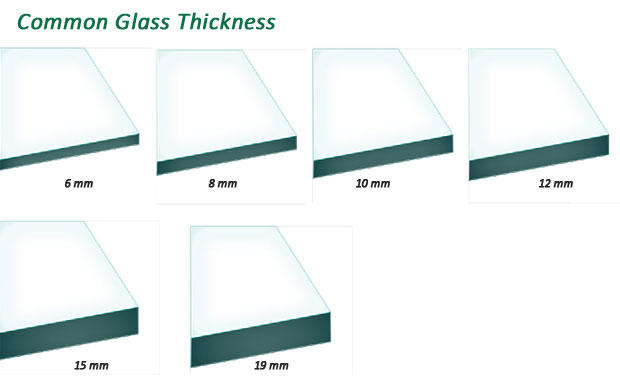 l  8mm Tempered Glass: A premium option that provides the highest structural integrity for frameless shower enclosures. Extremely durable and durable 8mm glass is perfect for adding luxury to any bathroom.
l  6mm Tempered Glass: Provides safe, durable, and durable options. More affordable than 8mm glass, this midrange option is ideal if you're looking for something more research than entry-level 4mm glass.
l  4mm tempered glass: Minimum glass thickness for frameless shower enclosures. 4mm glass offers high quality at an affordable price.
How to measure for a shower enclosure?
When measuring a shower enclosure, you need the height, width, and depth of the room in which the enclosure or shower room will be installed.
Please check the measured values again for your safety. Here are some tips for measuring shower enclosures.
Consider the shape of the shower tray border. If the end of the tray is square, it should be measured from the end, but if it is rounded, it should be measured from the end of the curve.
If you install the shower partition between two walls, you need to make three measurements at three different heights. This is because the distance between the walls is unlikely to be the same all the time.
Shower doors and glass panels have tolerances that are adjusted to fit perfectly into fake walls.
The screen installed in the corner should measure from the outside of the shower tray to the walls on both sides. 
If you have an old case and want to replace it immediately, just measure the existing case to save time.
How do you clean a shower enclosure?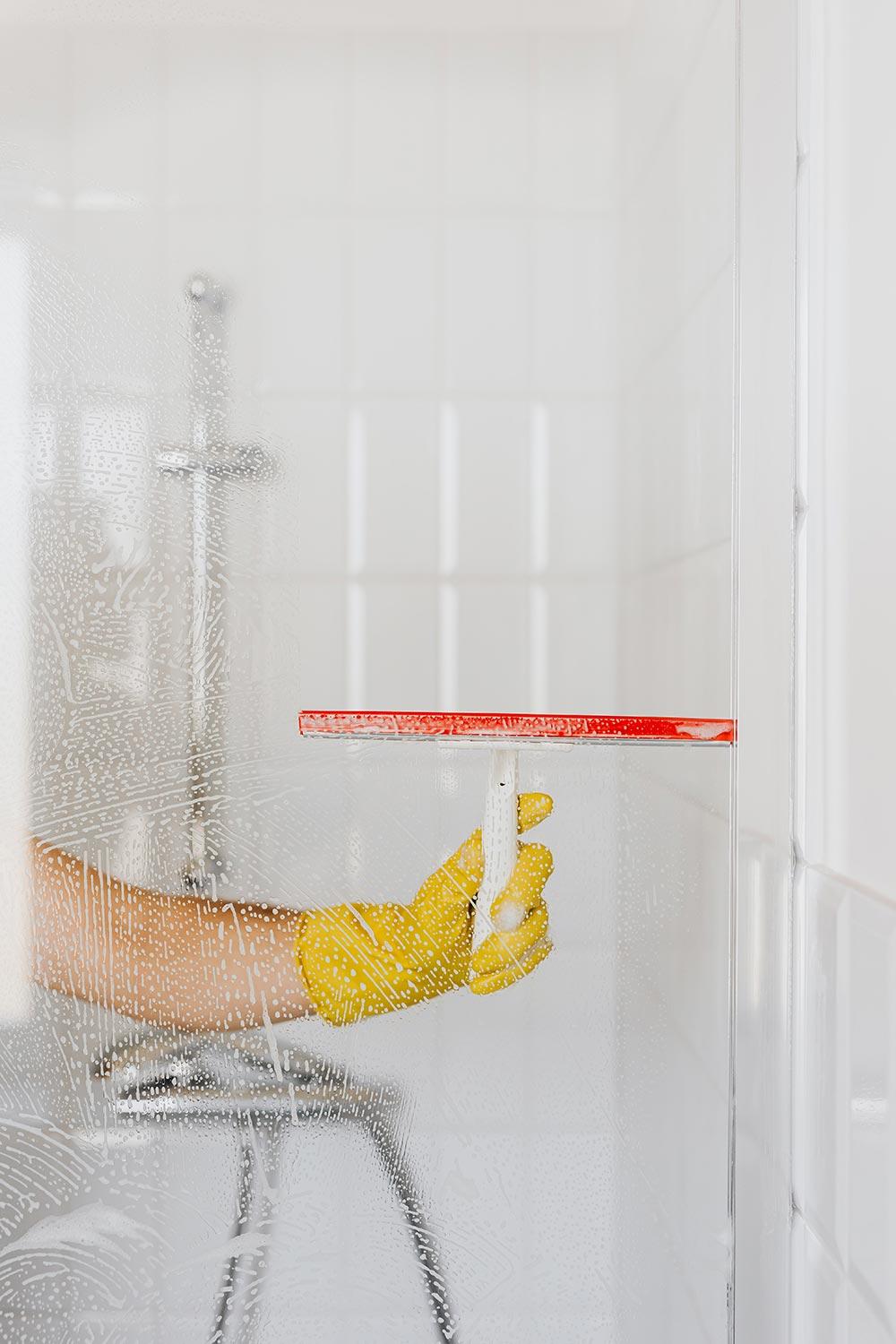 Cleaning the shower room is not the best job, but unfortunately, it should be done on a regular basis. The glass of the shower enclosure can quickly become cloudy and lose its luster from soap and shampoo deposits. Be sure to follow these four tips to make your enclosure look good.
●       Clean the shower glass regularly to prevent lime buildup.
●       Wipe the surface clean with a shower squeegee and let it dry. This will help remove scale deposits.
●       Glass cleaners help keep your shower glass shining and clean. 
●       White vinegar is also great for keeping your shower glass shiny.
How to install a shower enclosure?
If you have no DIY experience, it's best to leave the shower enclosure installation to a professional bathroom fitter. However, if you have the skills, see the shower enclosure installation guide for step-by-step instructions.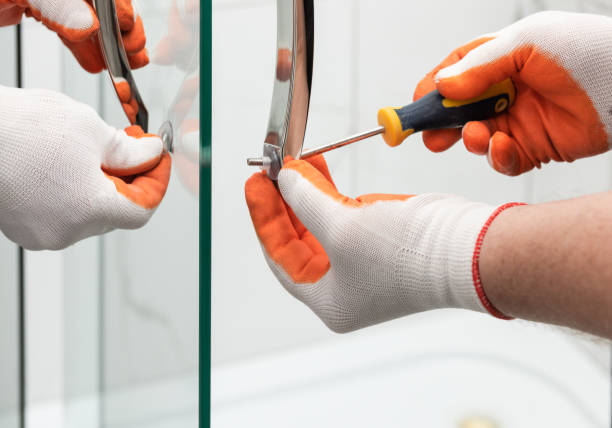 ●       A drill, sealant, spirit level, and screwdriver are required to install the shower enclosure.
●       Wall channels should be mounted on the wall first and then on the glass panel/door.
●       Once you're happy with the placement of the glass panels,  you can secure everything.
●       You can attach a handle and seal the outer edge of the case with silicone.
Final Thoughts
If you're trying to completely refurbish your bathroom, in addition to the new shower enclosure, the new shower may be part of it. This is the final task after assembling the case.
For more information on the matching showers and the different types of showers available, see our shower enclosures, corner shower enclosures, shower room cabin with colorful starlight, and tempered glass shower door with big rollers.