What is a shower cabin?
Buyers Guide to a better understanding of shower cabin
: From its material to things you need to consider before you buy one.
Shower Cabin provides a complete shower solution consisting of a shower enclosure, a bathtub, and the shower system itself in a single purchase. Providing the enclosure as a complete product ensures that the shower enclosure is waterproof and leakproof. It also means that you don't have to tile walls or floors as you can install it almost anywhere you can connect to water and sewage. A variety of shower cabins are available, from standard cabins to luxurious double cabins with body spray. The finest shower rooms provide the ultimate shower experience. Shower rooms, sometimes referred to as "integrated" or "one-piece" types, indicate that all shower needs and additional features are integrated into one unit. Most Shower Cabins are sliding doors that you can compare when choosing between shower enclosures.
Acrylic with a durable contemporary finish, usually with glass doors and a powder-coated or anodized frame.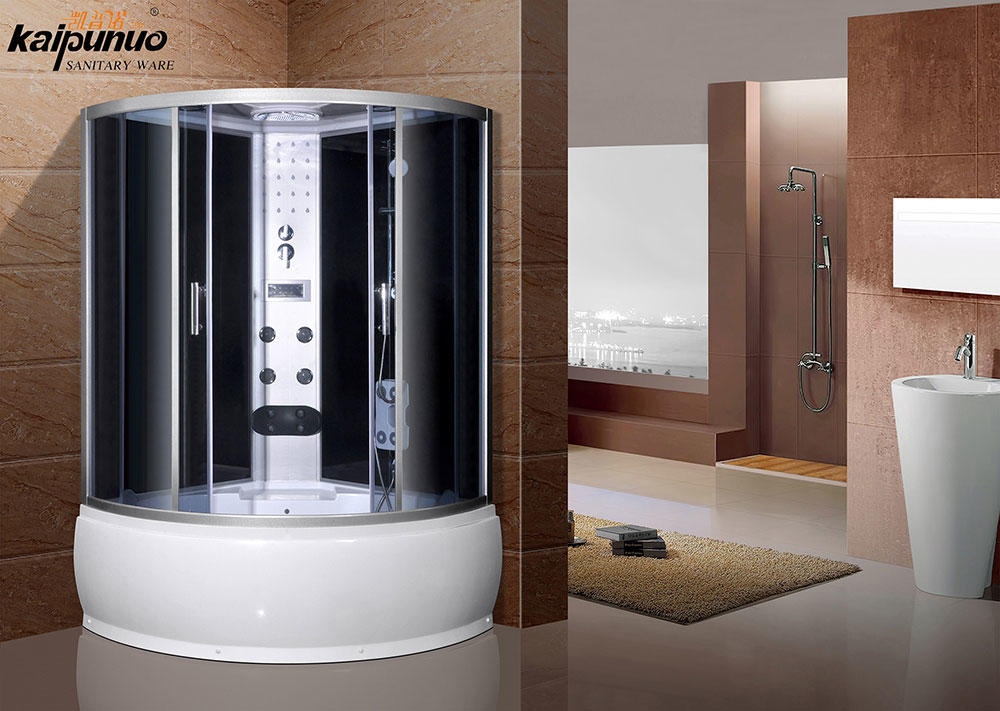 Materials
Shower Cabins are usually made of thermoformed acrylic. It is a strong material ideal for bathtub areas and forms strong walls. Often there are many metal details in more visible areas, such as the door handles and the shower unit itself. These metal parts usually have a chrome or matte metal finish for a glossy or subtle look, depending on your taste. The glass section is most often made of thick safety glass that is extremely shatterproof and protects the cabin and, more importantly, the user. This glass is usually 4mm to 10mm thick, and the thickest glass is reserved for the most expensive taxis.
Size
At the smaller end, the shower room occupies less space than a standard shower enclosure. Large units such as a luxurious double shower room occupy a much larger area of ​​your floor. Not only does this size range make the shower enclosure suitable for larger rooms, but of course, the larger floor space means that there are far more choices to choose from. Before investing in a shower room, take the time to consider whether it fits comfortably in your bathroom, and if so, whether it occupies too much space. The variety of sizes and styles means that every decent size bathroom requires a shower enclosure. So take your time to find your perfect unit.
It's well worth remembering that indexed cabin dimensions are the outside dimensions; those can help you understand how an awful lot of ground and wall area they occupy, however now no longer always how an awful lot of room you'll to maneuver at the same time as inside. Take into attention that there can be barely much less area in the cabin than the indexed dimensions. Most bathe cabins would require a minimum ceiling top of meters, so to a degree, this is similar to how an awful lot of ground area you need to paint with.
Also, recollect going away sufficient area in the front of your cabin so you can input and go out without an excessive amount of difficulty. Quadrant cabins are typically smaller and are the best selections for lavatories with much less area, even as square cabins are typically high-priced and may even consist of showers for sharing the cabin. The majority of bathe cabins function with sliding doors, which means they won`t intervene in the relaxation of the toilet whilst they may be opened. Some large cabins consist of benches, assisting you to loosen up and relax even as withinside the bathe.
Shape
The integrated shower partition is available in the same different sizes as individual shower trays and screens. The shape usually refers to the appearance of the base when viewed from above, such as a square or rectangle. The base of the quadrant booth looks like a right-angled quarter circle or ellipse so that it can be placed in one corner and another curved side. The quadrant fits snugly in the corner and maximizes space by minimizing the amount of penetration into the rest of the bathroom. This makes it popular with small properties.
The offset quadrant is similar to the standard quadrant, but one straight line is longer than the other, which gives you more room and is ideal for small bathrooms. As the name implies, square pods have a square footprint, and rectangular pods are longer and provide more space. Less commonly, the D-shaped cubicle is a stylishly curved unit with straight sides on the back that can be placed against a wall and is the centerpiece of a large bathroom.
Extra Features
The shower room includes all shower systems in the purchase, so luxury stalls can also include a variety of additional features. This includes the integration of multiple showerheads. Rain-style overhead showers, standard wall-mounted heads, and additional handheld showerheads for added ease of use.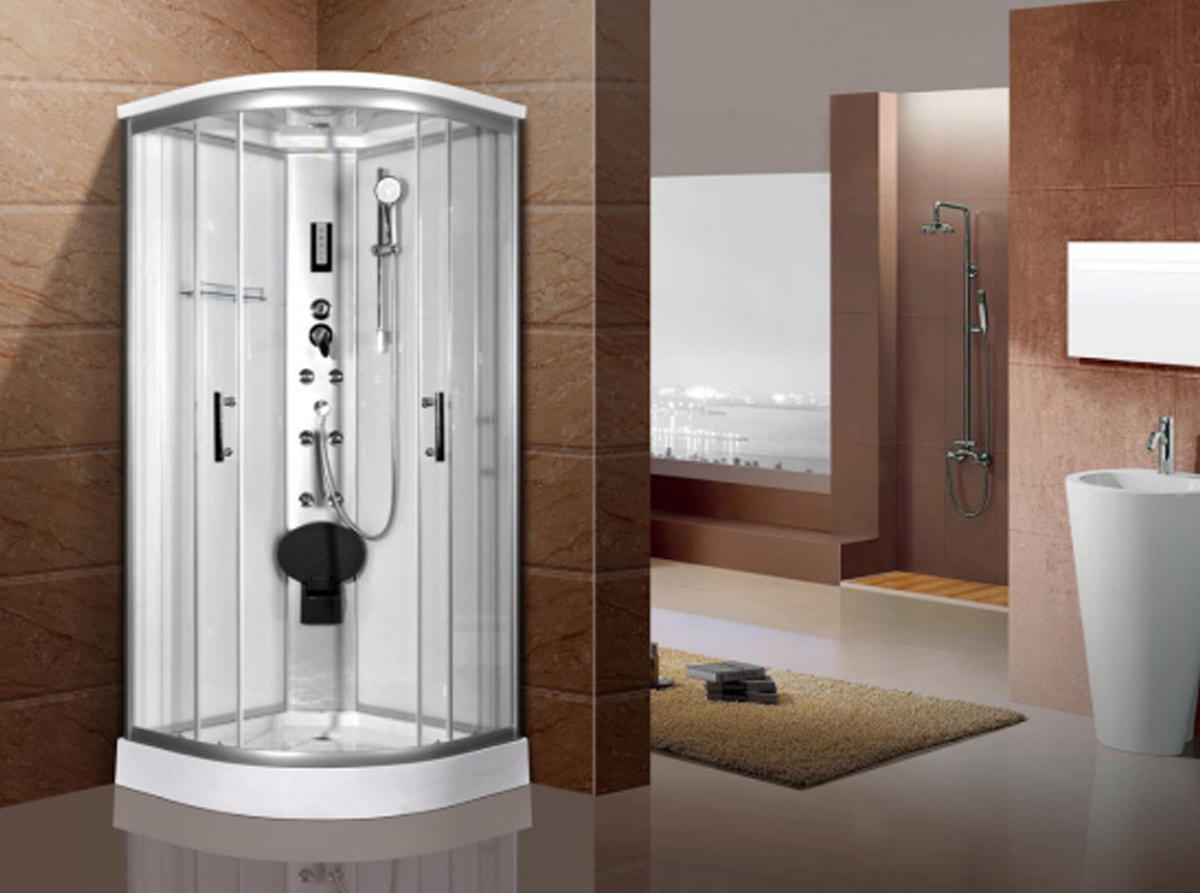 An additional body jet provides therapeutic and massage-like cleansing during the shower. From a pair of jets to a dozen jets that spray high-pressure water from all directions for powerful cleaning. You can also include a shower radio or Bluetooth speaker so that you can listen to music safely while taking a shower. For even more relaxation, some upgraded cabins offer pleasing lighting and aromatherapy, turning shower time into a sensual experience. If the shower has multiple side showers and you are using them all the time, your hot water consumption will increase. Ideally, it is worth noting a large hot water tank with a capacity of at least 300 liters.
If you don't have memory and rely on flow-through heating, a cabin with a lot of body jets can overwhelm your system and impact performance. Certain body jets can be controlled from an electronic panel, and if you choose a cabin with them, you'll need to connect them to a power source, just like a radio or light. As with any shower, if the water pressure is low to water the unit fast enough, a booster pump should be installed.
A shower Enclosure can offer an unparalleled level of luxury.
Steam Shower Cabin Installation: DIY or Professional Installer
When it comes to installing a steam shower room, many customers ask if it is easy to install a steam function or an overall steam shower room. In short, the answer goes back to self-confidence and skill-it may seem easy enough for some, but not so easy for others. When it comes to installation, you need to evaluate your skills and thinking. Ask yourself if you can work on such a project frankly and honestly. We hope the following information will help you make a good choice.
Do-It-Yourself Steam Shower Installation
Most of the work involved in installing a steam shower unit may seem to be centered around the installation. This aspect probably accounts for only 10% of the total installation process.
The self-contained shower enclosure uses a flexible connector with similar connections to both hot and cold water supplies and washing machine drainage. Simply connect these to a compression coupler with a 15mm compression isolation valve to dispose of hot and cold air and waste. Most of the work is done on the actual assembly of the unit itself and its components. You will receive the item in a flat package. This is what you should expect when you can easily make a packed Ikeatype wardrobe. This piece isn't as energetic as a standard shower enclosure, there are just more pieces, but the difficulty is the same.
Another option you may want to consider is to hire a professional plumber to plumb for you, especially if you have more work to do in the bathroom. The electrical aspects of the installations are some of the most sensitive installations. Many cabins have lights, steam generators, and even jacuzzis. This all means that power is needed to power on the device. After unpacking the device and verifying that it contains all the components, it will take at least 3-4 hours to set up the device. This period does not include plumbing, caulking, or connections to electricity. Water quality inspections after connecting the device to the water supply will now be excluded.
Hiring a professional
However, if you are experiencing problems, especially if you can find an expert from a company that specializes in installing steam showers, hiring an expert maybe your best option. You can also choose a plumber or a plumber. When following the route of hiring an expert, there are some points to keep in mind to ensure that you are doing your best.
Check the websites
You can go and check several websites and ask questions to professionals on how to install a shower cabin.
Vet the professional
The first thing that you just must ask when vetting an expert is about their experience. you would like to grasp if they need any experience in installing a self-contained shower or perhaps a steam shower cabin. it's better to rent one that contains a degree of experience in building these varieties of units. a reputable installer will have a background in putting in place products like these. Having said that, like our statement earlier, because the units are not any more tasking than a shower enclosure, an experienced bathroom fitter should don't have any issue
You also must keep a watch out for old-school plumbers. Many of them don't have experience with this kind of product or even because they need to stumble upon the same cheap product within the past, which one amongst their clients had them install and because it was substandard that they had a foul experience. It can even be because they'd wish to be the one to produce you with the merchandise that you just want to possess or offer their services from unpacking the unit, to doing the plumbing and electricity installation. By offering an all-in-one service, they're going to earn more.
They may have stumbled upon a problematic unit in the past, which has been bought from a shady supplier or perhaps from an auction site. There are instances when these old-school professionals fail to update themselves about the newest forms of units and reliable brands that are on trend today. Like anything you'll buy an inexpensive DVD player, bike, or anything from eBay or Amazon and you ought to not be surprised if unbranded, cheap imitations have issues.
Things to Consider
If you decide to hire an expert, it's best to get at least two quotes and a breakdown of their fees.
Plumbing charge
Please ask about the plumbing fee. Work involves properly installing your hot and cold water lines at one point behind the shower unit. The amount you have to pay usually depends on the amount of work they have to do and the materials they have to use.
Electricity charge
You also need to take into account your electricity bill. This task involves installing the power supply behind the place where the steam shower is installed. The cost depends on what is involved.
Building the unit
The structure of the unit depends on the device model and action in the country.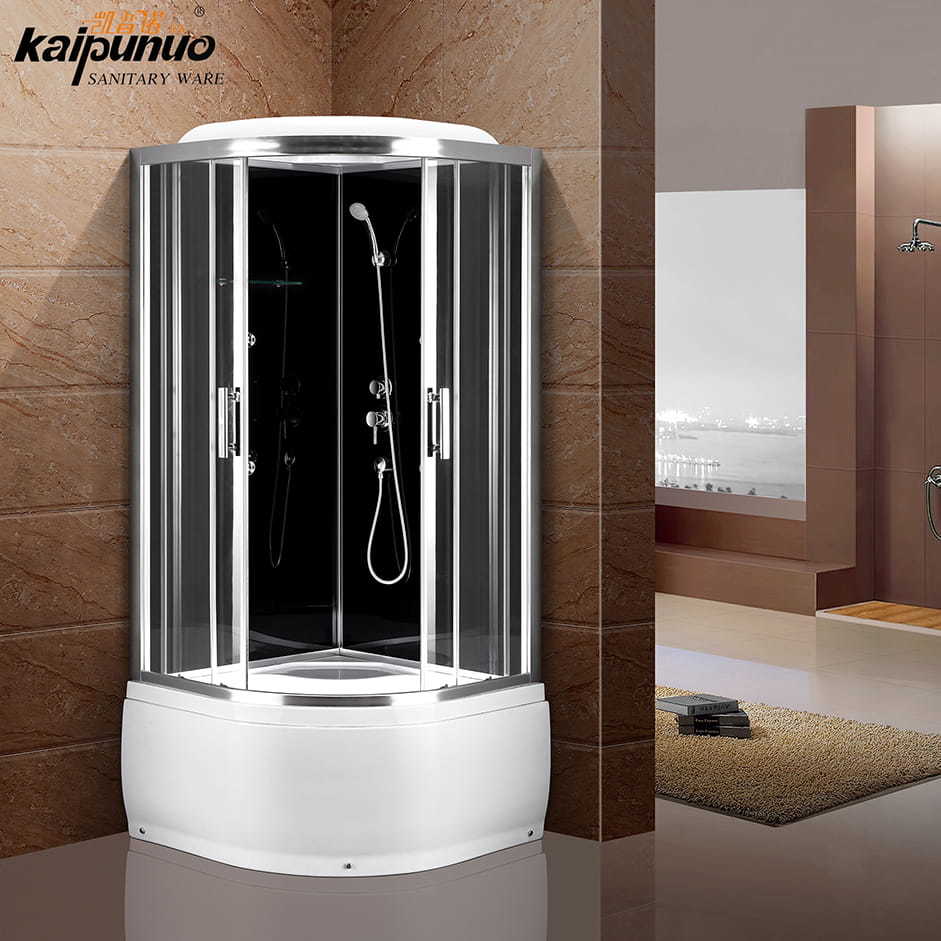 Article FAQ
Is a shower cabin suitable for my bathroom?
The shower room is suitable for a variety of bathrooms. The main factor is space, so you need to match the size of the shower room to the bathroom. You should also consider the style of the bathroom so that the shower room matches and complements other fixtures and furniture.
Shower cabins for smaller bathrooms
If you have a small bathroom like an en suite or shower room, a mode quadrant black hydromassage shower enclosure with a glass back is ideal. It fits snugly in the corners and features curved glass doors for a space-saving design. With sliding shower doors, you don't need extra space to open them.
Shower cabins for medium/larger bathrooms
If you want the shower to be the true focus in a large bathroom, Insignia's left-handed quadrant steam shower enclosure is a big highlight. This design allows for bathing and showering, the offset curved shape gives you plenty of space, and the sliding doors make it easily accessible without occupying additional floor space.
Looks great in a contemporary bathroom with other sophisticated modern amenities and furniture, but thanks to its classic lines and understated look, it may also fit into a more traditional bathroom.
What is the difference between a shower cabin and a shower enclosure?
Shower enclosures: No back panels, no other function
Shower cabin: With back panels, with multi-functions
Final Thoughts
The shower room with the option of body jet, hydrotherapy, and steam setting all in one enclosed space is a luxury option, ideal for bathrooms of all sizes.