With the development of social economy, the advancement of science and technology, and the improvement of living standards, people pay more and more attention to the quality of life. The way of bathing is also constantly being reformed and innovated. For the convenience of life, people often install water heaters in the bathrooms of their homes, which makes bathing more convenient and fast. However, there is also a problem, that is, sanitation and bathing are the same. People do not have a relatively independent space for bathing in it, which seems to lack a sense of security; when the temperature is low, bathing in the bathroom will feel that the space is too large and not insulated. Cold and cold, bathing uncomfortable. Taking a bath directly in the bathroom will also make the whole bathroom wet. In view of these problems, as long as the shower room is installed, all the problems will be solved easily. Let me tell you what are the benefits of using a shower room?
1. There is a relatively independent bathroom space. Most of the traditional houses combine bathing and sanitation, so there are some unreasonable places. That is, people take a bath inside, which creates a sense of insecurity because the space is too large. Besides, as long as someone is taking a bath, other people can't when they want to be convenient. They can only hold back until the bathing person is finished, and life is very inconvenient. If the top ten brand products of China's shower room are installed, the bath can be formed into an independent space, which has a sense of security without affecting each other, which is convenient for daily life.
2. Especially in urban areas where every inch of land is expensive, the bathroom is not too big. If a bathtub is installed in the bathroom, it not only wastes a lot of space, but also wastes a lot of water when bathing, and it goes against the energy-saving, environmental and frugal lifestyle we advocate. What's more, many bathrooms in families cannot install bathtubs due to their small size. If you install a shower enclosure, you can save space and save a lot of water bills.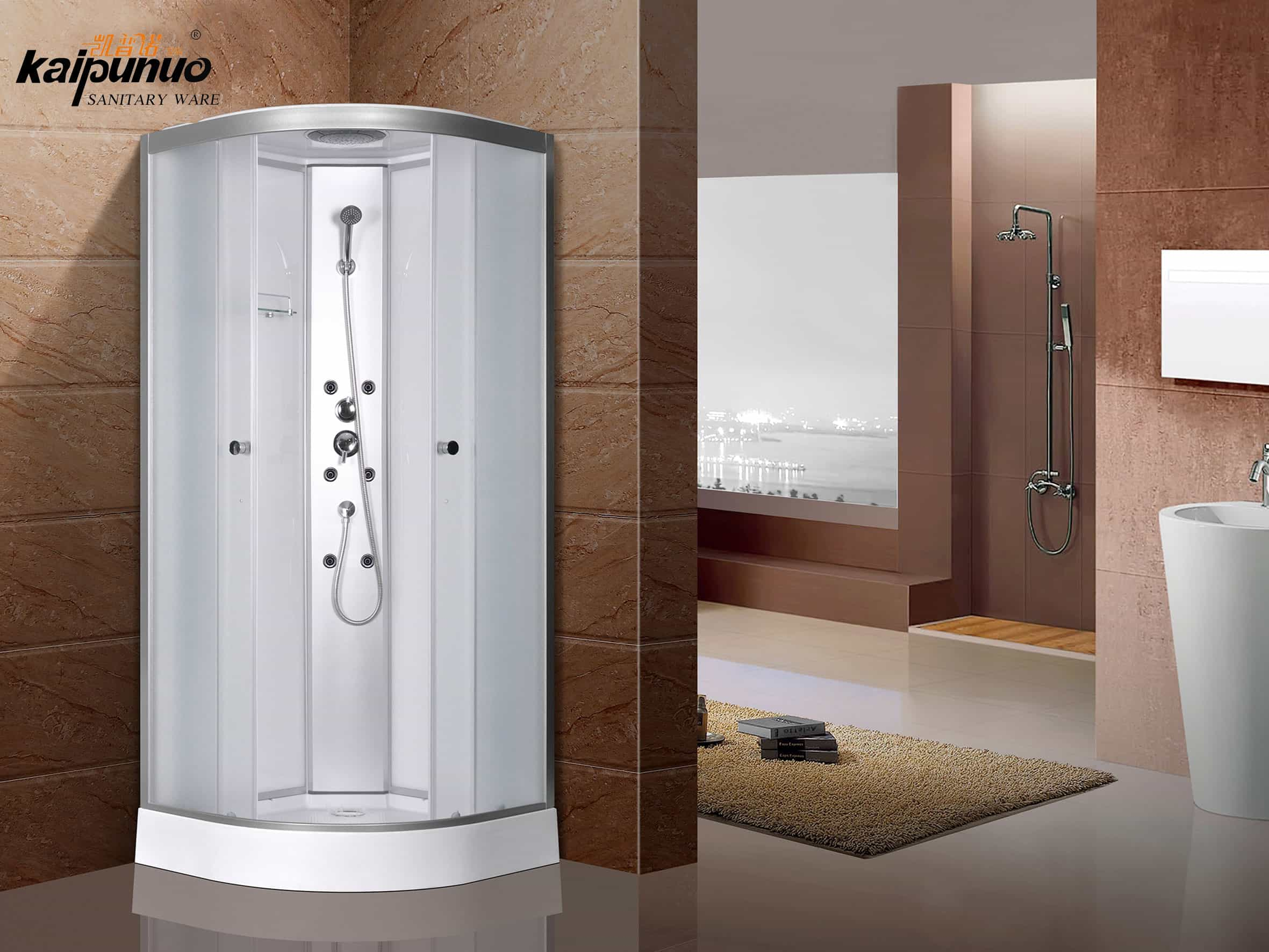 3. Keep the bathroom separate from wet and dry. In traditional bathrooms, when people are taking a bath, the water sprayed by the nozzle will splash into many places in the bathroom, splashing the toilet, walls and floors in the bathroom, which is very inconvenient. If a shower room is installed, water will not splash outside the shower room when people take a bath, so that the dry and wet are separated.
4. Insulation savings. In autumn and winter, the weather is colder. If you want to take a bath in the traditional bathroom at home, it will be too large and cannot be well insulated, which will easily cause people to catch cold in the shower and affect the health of the body. If a shower room is installed, the water vapor will gather in a limited space, and the heat will not be dissipated quickly. Bathing in it is both warm and convenient, and it also has a certain saving effect.
Kaipunuo Sanitary Ware Co., Ltd
 is a professional China 
OEM Shower Stalls Manufacturers
 and 
wholesale Shower Stalls Kits Suppliers
, established in 1997 in Pinghu, Zhejiang province, China, which integrates design, produce, sales and customer service vertically for our customers in more than 20 countries all over the world. We are the first manufactory use no-screw set up technology in sanitary ware industry and awarded dozens of international patents and certifications in the past years. We supply 
Shower Stalls & Kits & Enclosures wholesale
 and our products are mainly exported to dozens of countries including the United States, Germany, Japan, Spain, Italy, the United Kingdom, South Korea, Australia, and Canada. With the faith of "Ever No.1", Kaipunuo keeps providing the best bathroom solutions to our customers and sincerely wishes to cooperate with friends all over the world to build a prosperous future together!