What are the methods for cleaning the glass in the shower room?
1. For the yellow water stains on the glass of the shower room, you need to spray it with glass cleaner, and then wipe it with a dry cloth to make it look like new; and for the hardware accessories used in various parts of the shower room manufacturer's products, you can't use the cleaner. In order to avoid corrosion of the surface, the recommended method by Guangdong shower room manufacturers is to wipe with a dry rag regularly to keep it clean.
2. For water stains in the glass room, you can go to the supermarket to buy a glass scraper that is the size of the glass door of your own shower room (there are plastic or metal brackets and handles, embedded with rubber strips, and the length must be the same as your own. The length of the glass in the shower room at home is similar, if it is too long, it will be inconvenient). After taking a bath, use a glass scraper to scrape the glass of the shower room, which does not require time or effort.
 3. If there is scale on the glass of the shower room, it can be quickly removed by washing with a mixture of vinegar and a little salt. You can also use glassware cleaning solution to spray the glass or frosted glass in the bathroom, then wipe it with a dishwashing ball, and then wash the frosted glass with warm water.
4. Use the toilet cleaner to clean, but also pay attention to keep it clean, just rinse it with the nozzle every day when you take a bath.
5. First spray the glass water evenly on the glass surface, then wipe it clean with a dry soft cloth.
There are still many ways to clean the glass of the shower room. It is recommended to find the right method according to the individual situation. Remember to be patient when cleaning, so that it can be cleaned properly and effectively.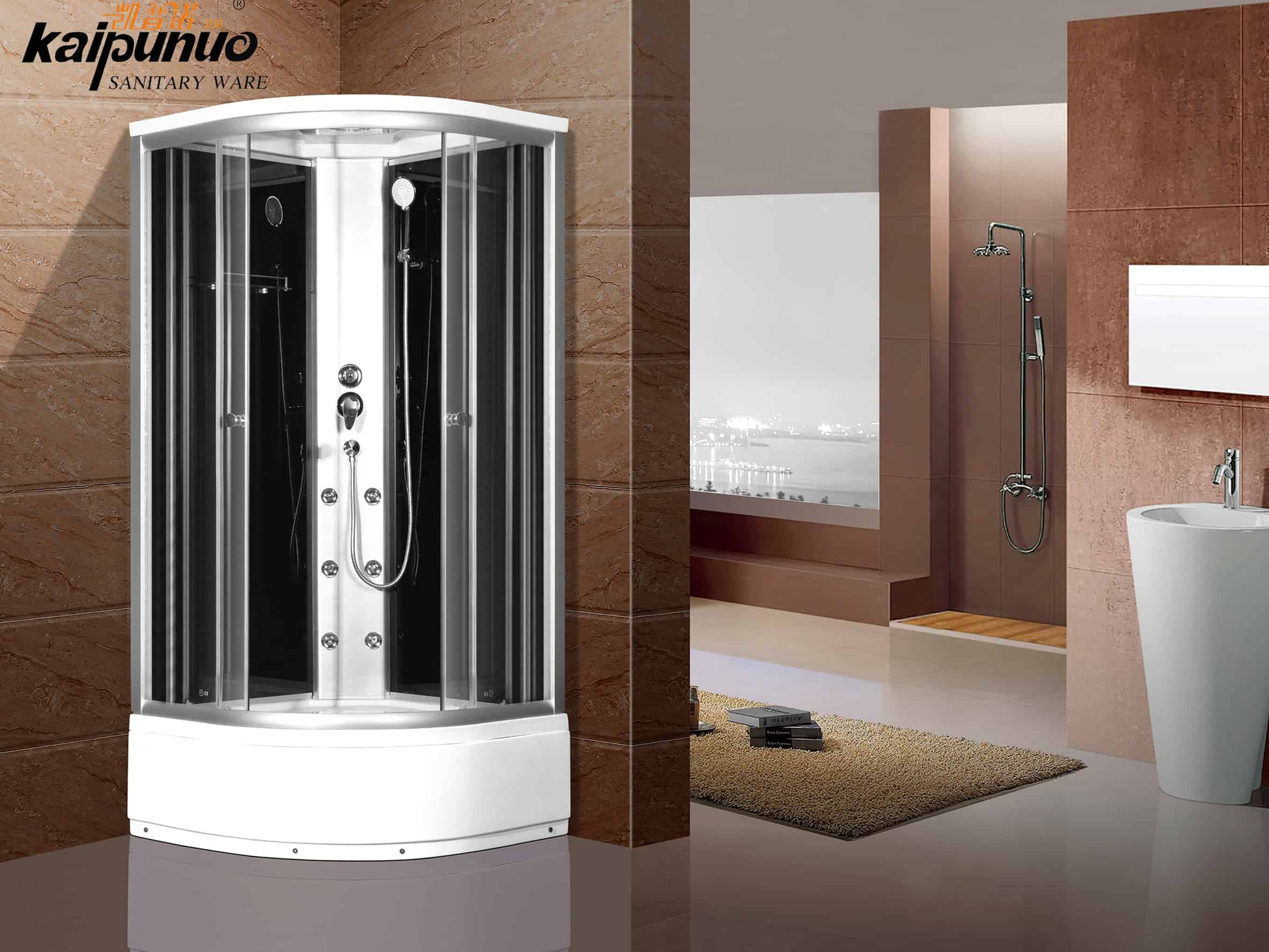 Kaipunuo Sanitary Ware Co., Ltd
 is a professional China 
OEM Shower Stalls Manufacturers
 and 
wholesale Shower Stalls Kits Suppliers
, established in 1997 in Pinghu, Zhejiang province, China, which integrates design, produce, sales and customer service vertically for our customers in more than 20 countries all over the world. We are the first manufactory use no-screw set up technology in sanitary ware industry and awarded dozens of international patents and certifications in the past years. We supply 
Shower Stalls & Kits & Enclosures wholesale
 and our products are mainly exported to dozens of countries including the United States, Germany, Japan, Spain, Italy, the United Kingdom, South Korea, Australia, and Canada. With the faith of "Ever No.1", Kaipunuo keeps providing the best bathroom solutions to our customers and sincerely wishes to cooperate with friends all over the world to build a prosperous future together!